Mik announces updates on pig flooring products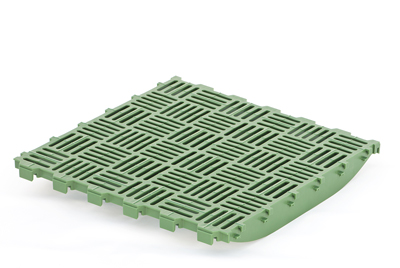 The pig flooring company, Mik announces product updates…
Chess piglet panel
The Chess piglet panel series, already available in the sizes 800×600 mm and 800×100 mm, is now complemented by a panel measuring 600×600 mm. The chequered surface design ensures steadiness in all directions and features self-cleaning characteristics. Used in conjunction with the Thermo W 600×1200, it provides piglet breeders with the best possible conditions for ideal results.
Swing sow panel
The Swing sow panel has been presented in the sizes 500×600 mm and 500×100 mm. This means that the Thermo W/E 500×1200 can now be used in pens with diagonally arranged cages. In future it will also be possible to construct sow standing areas with widths in excess of 80cm at an economical price. A matching smaller variant in the size 500×100 mm is available for maximum installation flexibility. This can also be supplied with a Rubin surface, making it perfect for combining with the Rubin 500×600 piglet panel.
Mik International is a specialist in Europe for high value plastic flooring in pig, calf, sheep and goat husbandry.