Market crisis in Ukraine: Strong pork imports expected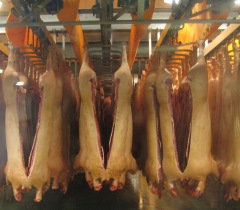 In the first quarter of 2012, Ukraine's import volumes of pork and beef could rise by 1.5-2 times, and poultry imports could rise by 30-40%. These data have recently been revealed by Alexander Yaroslavsky, deputy director of Ukrainian agrarian confederation.
In the first quarter, prices for pork rose by 8%, beef by 19%, poultry by 22%, and it is clear that this is only the beginning. Economic experts predict that by the end of 2011 pork cost about 45 hryvnia/kg (US$ 6). In mid-April, however, the price could reach 80 hryvnia (US$ 10.8) per kg. That will make pork almost unavailable for most consumers.
Experts state that the sudden crisis in the market mostly affects pork production. Poultry meat production is affected less.
Higher prices
The higher prices are related to a fall in livestock numbers. According to the country's statistical services, numbers in all livestock and poultry species have dwindled. In particular, the number of pigs fell by 6% (462,000 head). Last year, however, in the same timeframe an increase could be noted of 167,000 head. In 2011, a production volume increase of 52,000 tonnes was noted, a 29,000 tonne export increase and a decrease of import volumes by 117,000 tonnes.
Yaroslavsky said that the import rise is related to a significant reduction of the current meat production volume of meat in all sectors, especially beef and pork. Yaroslavsky said that within two months of this year, the pace of development of Ukrainian livestock industry fell rapidly. In January-February 2011, the sales of meat (live weight) in all farm categories increased by 6.1%; in 2012 in that same timeframe a decline of 1.3% was recorded.
It is obvious, however, that such strong crisis on the market could not be caused only a slight decline in production. Market analysts still find it difficult to explain what could have caused it.
(By Vladislav Vorotnikov)