Maple Leaf Foods – major changes to reduce operating costs, increase productivity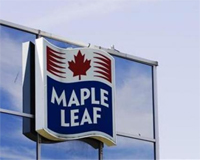 Maple Leaf Foods announced significant changes in its prepared meats business to reduce operating costs and increase productivity. This initiative will see the company invest approximately $560 million in infrastructure and technologies over three years to establish a world-class prepared meats network.
These changes, combined with other strategic value creation initiatives underway, are expected to significantly increase the company's competitiveness and profitability in the near and longer term.
New construction, shutting of old plants
Included in this investment is the construction of a new
$395 million, 402,000 square foot prepared meats facility in
Hamilton
, which will be competitive with best-in-class facilities in
North America
.
Maple Leaf will also invest in existing plants in
Winnipeg
,
Saskatoon
and
Brampton
, establishing highly efficient category-focused "centres of excellence". The company's plants in
North Battleford
,
Kitchener
,
Hamilton
,
Toronto
,
Moncton
and a small facility in
Winnipeg
will close by the end of 2014 as production is consolidated into new or expanded facilities.
Maple Leaf will also simplify its distribution network by consolidating four distribution centres into two; a new, purpose-built facility in
Ontario
servicing eastern
Canada
; and an existing facility in
Saskatoon
serving as the western Canadian hub. Distribution centres in
Moncton
,
Burlington
,
Kitchener
and
Coquitlam
will be closed by 2014.
The company's value creation plan is expected to result in EBITDA margins of 9.5% in 2012 and 12.5% in 2015. Management is committed to maintaining an investment grade balance sheet throughout the plan implementation. Maple Leaf expects to incur restructuring costs of approximately
$170 million before taxes related to these strategic initiatives, of which approximately $120 million represents cash costs.
"The final phase of this plan will establish Maple Leaf Foods as a more streamlined and profitable company, well positioned to deliver significant and sustainable value to its shareholders," said
Michael H. McCain, President and CEO. "We are creating, through one of the largest single investments in the Canadian food industry, a highly efficient, world-class prepared meats production and distribution network that will markedly increase our competitiveness and close the cost gap with our U.S. peers."
"We have made excellent progress in executing on the near term components of the value creation plan first announced last September, progress that is reflected in the company's recent performance, including nine consecutive quarters of earnings growth. We have developed strong positive momentum in the business and we are focused on completing the final phase of the plan and delivering a substantial return on this significant investment."
The decision to proceed followed an extensive review by the Company's Board of Directors, which established a special working group led by
Jeffrey Gandz and included Gregory Boland, Diane McGarry, James Olson and Gordon Ritchie. This group performed a detailed analysis of all the strategic, capital and operational elements of the plan, including its expected returns and potential risks.
"After a thorough review of the final phase of the plan, the Board unanimously granted its approval," said
Purdy Crawford, Chairman. "We believe it represents the best path for Maple Leaf to create and deliver significant and sustainable value to shareholders."
Job losses/ New Jobs
This investment will create approximately 1,150 new jobs and provide a strong platform for future growth at Maple Leaf. Facilities closures will result in a net reduction of approximately 1,550 positions, with the majority of the workforce reductions occurring in 2014.
"While this initiative is fundamentally about growth, the closure of facilities will result in the loss of jobs. We regret the impact on our people and communities adversely affected by these decisions. We will seek alternative uses of these facilities to create job opportunities in the affected communities and support our people through this period of change. The new jobs resulting from this strategy will be sustainable and allow our people to develop new skills and experience working with world-class technologies. The investment we are making in existing or new facilities will provide significant economic benefits and strengthen the Canadian food industry," added Mr. McCain.