Malaysian consumers hesitate to buy pork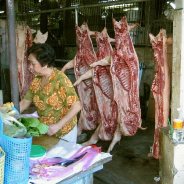 Following the discovery of beta-agonist being used by pig farmers, consumers in Malaysia have become hesitant in buying pork products.
According to Goh Chui Lai, chairman of the Malaysian Pork Sellers Association, business has experienced a 50% drop in the last one or two weeks, due to fearful consumers. This follows the news that 30 Malaysian
pig farms have been been placed under a two week quarantine
following the discovery of high levels of the banned growth enhancer, beta agonist, in animals.
"Our supplies are sufficient. In fact, we have too much stock now as people are not buying," Goh said.

Federation of Livestock Farmers Associations of Malaysia pig unit chairman, Tung Hong Chai, said business had fallen 40% compared with more than a month ago.
Health Minister Datuk Seri Dr Chua Soi Lek
said that the Government has decided to take action so that the use of the banned substance would be wiped out and farmers would be prevented from harming the RM1.5 billion (€319 million) industry.
Related links: