Major Chinese processor to expand pig breeding business, clenbuterol mentioned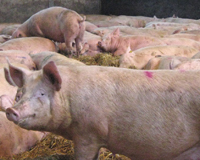 Shuanghui, noted as China's largest meat processor, has stated that it will expand its pig breeding business.
The company plans to build pig breeding farms with annual capacity of 500,000 pigs. In addition, there will be feed processing plants with the capacity of 200,000 tonnes.
According to reports, each farm and plant will be positioned next to a slaughterhouse, with a 2 million head annual capacity.
The company confirmed that the expansion is to ensure meat quality, following the clenbuterol scandal which occurred in March concerning the firm.
The scandal clenbuterol scandal in March
In March this year, farm closures in Henan province were reported after clenbuterol was found to be used in pig feed. Further reports state that Henan Shuanghui Investment & Development Co Ltd as one of the main companies that had sold the contaminated pork meat. In April, Wan Long, the CEO of Shuanghui Group, at the centre of the clenbuterol scandal, was quoted as admitting the company's mistake and disclosed the scandal had so far cost the company more than $1.85 billion.
Shuanghui Group is the parent of listed branch Henan Shuanghui Investment & Development Co. Ltd.