Lithuania: Largest pork producer suspends investments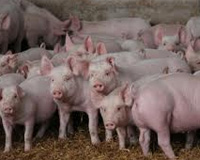 Lithuania's largest pork producer, Saerimner, announced that starting this year it will completely abandon investments in the development of pig breeding domestically. Now, the entire investment amount will be directed to the development of pig breeding facilities in Russia.
The CEO of Saerimner, Saulius Lyaonavichyus, believes that Lithuania now growing only half of pigs needed for meeting of internal requirements. At the same time, according to him, the development of pig breeding in the country is hampered by the tough requirements for the construction of new pig farms.
"Over the past six years we could not get the necessary permits for growing pigs on the new farms. Thus, now we can move forward, only by purchasing the very old Soviet farms from their former owners. In this situation the shareholders have decided that all money that our company will make as well as funds that will be drawn from the International Finance Corporation, World Bank, we will direct to investments in Russia," he informed.
According to Lyaonavichyusa over the past 19 years no new pig farms were built in Lithuania. He stated that in order to completely meet internal demands, the country needs to grow about a half of million pigs per year.
During the first quarter of 2012 the country imported 14,780 tonnes of pork, while for the same period of the last year it was 14,680 tonnes. The main exporters were Poland, Germany, Belgium and Holland.
Thus, Saerimner, according to experts, is likely to cut 6.75 million litas (US$ 2.4 mln) of the investments in the development of pig production in Lithuania planned for 2012. Since its establishment in Lithuania in 1999 Saerimner already invested 190 million litas in the national market (US$ 67.8 mln). Saerimner is an affiliated company of the Danish Idavang A/S group of companies.
(By Vladislav Vorotnikov)