Lesaffre Symposium: Yeast could potentially combat Salmonella and Clostridium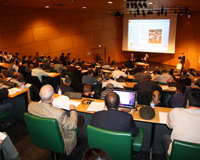 Live yeast may also be used to combat Salmonella and Clostridium in pig production. Romain D'Inca, swine research and development manager for Lesaffre Feed Additive, France, noted this during the company's Symposium 2011, held last week in Lille, France.
Last year, the company already demonstrated the use of its live yeast product Actisaf against E.coli, e.g.
through this article in Pig Progress
. It may not stop there, D'Inca said in his presentation.
Speaking about research in general, D'Inca said, "Active research in the field of probiotics has highlighted some complementary mechanisms of action involving a more direct (inter)action between the yeast and some pathogens. Among others, ability to bind efficiently Salmonella strains such as S. typhymurium, to cleave A-toxin of C. difficile, to avoid K88 enterotoxigenic E.coli induced inflammation, to stop C. albicans overgrowth and more globally, to increase immunoglobulin (IgA) production, have been demonstrated."
He continued, "As a consequence, we now have to consider these properties as complementary ways to improve performances of animals such as the pig."
The French yeast manufacturer's symposium attracted about 250 people, from all over the world. Other speakers included:
Prof Andrew Van Kessel, University of Saskatchewan, Canada, spoke about the triangular link between nutrition, microflora and the host and zoomed in on the question how nutrition can influence the microbial composition in an animal's gut since nutrients are a major substrate for microbial fermentation.
Dr Rosil Lizardo, IRTA, Spain,discussed the outcome of laboratory trials to just-weaned piglets, fed Saccharomyces cerevisiae Sc47 (Actisaf). He said, "From the results of this study, it can be concluded that utilisation of Actisaf has positive effects on productive performance after weaning and its inclusion in piglet diets could be recommended, in particular on high fibre diets."
The effect of live yeast on sow-mediated immunity, was the topic of the presentation of Dr Henri Salmon, INRA, France. In in vitro studies, he had noticed various probiotic properties, probably by intervening at several complementary levels, the resident microflora of the gut and the gut epithelial cells.
Dr Eric Cox, University of Ghent, Belgium, kicked off a more specific section in the presentations, discussing on E. coli in pigs. Cox himself zoomed in on E.coli in pigs – and what happens on a bacterial level when colibacillosis occurs in pigs. He made a difference between enterotoxigenic E. coli (ETEC) and verotoxigenic E. coli (VTEC).
Dana Kumprechtová, Veterinary Research Institute of Brno, Czech Republic, discussed a clinical model of swine colibacillosis, and how live yeast can make a difference on the transmission of passive immunity via colostrum, the growth rate in the early stages of life and the reduction of post-weaning E. coli diarrhoea.
Practical results came from Dr Jan Bernardy, Faculty of Veterinary Medicine, Brno, Czech Republic – who presented field data on the effect of live yeast in weaned piglets. He said diarrhoea occurrence after weaning decreased and performance was improved.
The session was closed off by a contribution of Dr Philippe Le Coz, France. He discussed field trials increased litter weight at weaning by 7.4%. Using the live yeast could be part of a 'promising approach to control neonatal diarrhoeas'.