Leman Swine Conference to discuss science-driven solutions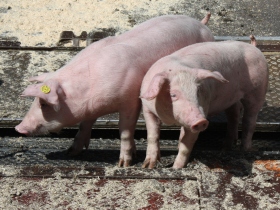 The University of Minnesota College of Veterinary Medicine will host the 37th annual Allen D. Leman Swine Conference September 18-21 at RiverCentre in St Paul, Minnesota.
One of the international swine community's premier events, the Leman conference draws swine veterinarians, producers, research scientists, industry experts, government officials, and leading producers from around the world.
Presentations and seminars
In addition to two full days of presentations and seminars on topics ranging from swine diseases to production to consumer issues, the conference will include a two-day pre-conference programme, trade show exhibits, and scientific poster presentations. Keynote sessions will include:
• A Wall Street View of the Protein Markets,©presented by Farha Aslam, managing director, Stephens.
• Elimination of PRRSV from North America: Uniting the Clans!, presented by Scott Dee, professor, University of Minnesota College of Veterinary Medicine
• How Do We Feed a Growing World Without Destroying the Planet?, presented by Jon Foley, director of the University of Minnesota Institute on the Environment
• Where Has All the Research Gone,©presented by Mike Tokach, professor, Department of Animal Sciences and Industry, Kansas State University
Practice Award
Also part of the conference will be the presentation of the Allen D. Leman Science in Practice Award to Dr Paul Yeske of the Swine Vet Center, P.A., in St Peter, Minnesota. Established by the University of Minnesota College of Veterinary Medicine in 1994, the annual award honors individuals whose achievements contribute significantly to the body of knowledge related to swine health and management.
New to this year's conference will be the Distinguished Lecture, 'Bringing Prosperity to the Smallholder African Farmer Through Livestock', presented by Dr Gregg BeVier, senior programme officer with the Bill & Melinda Gates Foundation.
Related website:
• Allen D. Leman Swine Conference