Lecture tour addresses changes in agriculture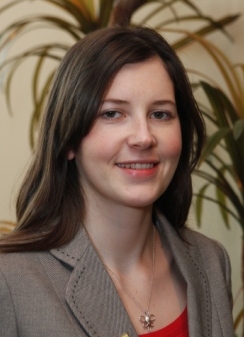 In response to changes taking place in the agriculture industry, animal nutrition company Alltech currently tours through Europe with its programme 'Shaping tomorrow's technology: Path to a profitable future'.
This programme focused on adapting to a changing world through new technology and better communication, providing a well rounded look at how the agricultural industry can determine its future.

Dunboyne, Ireland based marketing manager Sheelagh Pentony kicked off the meeting stating that "we are in the middle of a nutrition revolution."
She said, "The way we make food purchase decisions today are totally different than in the past. We are now looking for the right nutrients, not just the right food. We look beyond the label and at the message behind the products we buy. There has never been a better time that the consumer has felt as empowered as now and at the same time as far as away from the farm."

She said that because of that greater awareness the industry must work harder to sway the negative public perception of agriculture to a positive one, adding: "We must take responsibility for communicating that message, not leaving it to others who generate the negative press."

Pentony recalled the impact of social media to bring a message across the general audience and more specifically young people, the consumers of the future. There is a whole new array of tools available at minimal cost for agriculture when social media are used to tell a story.

Programmed feeding
A revolution in animal nutrition was also observed by Jules Taylor-Pickard, solutions deployment team manager Europe at Alltech.

"Over the last decade, the agricultural industry has taken major strides in totally redefining its thinking about nutrition and nutritional systems," said Taylor-Pickard.

She said, "For instance, from the use of nutrigenomics we can now predetermine how an animal will perform and can modify its entire diet to allow for optimal performance and improved meat quality."
She added that by studying changes in gene expression patterns it is possible to develop a fingerprint of the genes that are affected by a specific diet or set of environmental factors. In nutrition studies, this allows scientists to use literally thousands of individual characteristics to evaluate the effects of dietary changes and specific nutrients.

It is therefore possible to get a detailed picture of nutrient effects at the gene level and use this knowledge to programme or imprint a desired outcome at the production level.

Taylor-Pickard said, "Alltech's Programmed Nutrition approach views the animal throughout its total life cycle and uses specific feeding and feed management strategies to manage growth and enhance product quality."

She emphasised, "It is not simply a change in feed formulation or supplementation strategy; it is a strategic shift in animal nutrition."

Positive view
Patrick Charlton, the companys vice president, Europe, said: "As we reflect on the increase in global population over the 20th century and on into this century, we must look positively on the successes our industry has achieved. However, we must also face the challenges before us."

He said, "The ability to provide food for a burgeoning global population rests on the shoulders of our industry. We must find the balance for profitable and sustainable food production, protection of resources while satisfying consumer demands for a safe and traceable food supply."

Charlton said that agriculture must think differently from how we have in the past by adopting new technology at a faster pace and communicating in a way we never have.

He stated that his company looks into the future, adding: "We endeavour to make agriculture exciting while constantly seeking new ways to improve the profitability and sustainability of our industry.

These topics will be one of many to be discussed at the company's international annual symposium. Held May 20-23 in Lexington, KY, United States, the company expects around 3,000 delegates from over 80 countries.
Related website:
• Alltech