Latest Pig Progress looks at climate control and nutrition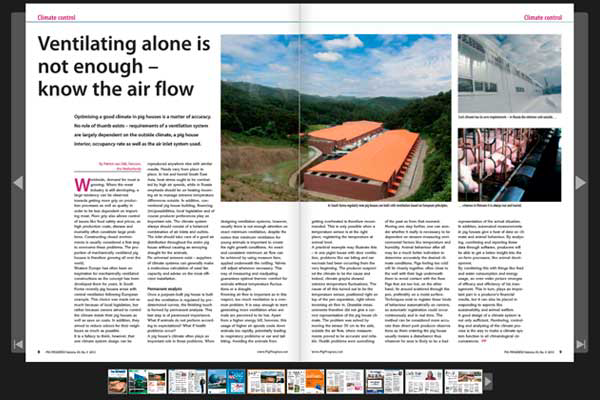 Pig Progress 29.09 is now out – and offers a host of different articles from all over the world, with special attention for the themes 'climate control' and 'nutrition'.
This month's farm visit takes readers back to one of the most promising markets for pork in the world: Vietnam. Earlier this year, readers could have a look behind the scenes at a small-size breeder and grower – this time it is time to learn what the top of the breeding pyramid has to offer. Pig Progress visited a brand new nucleus facility, jointly set up by Japfa Comfeed and Hypor, north of Ho Chi Minh City.
With regard to pork production, Russia's plan to be self-sufficiency by 2021. How are these plans going, now Russia is a member of the World Trade Organization? Is this still a realistic goal? Correspondent Vladislav Vorotnikov and editor Vincent ter Beek jointly look ahead.
In an attempt to invite a fresh pair of eyes to look to the pig industry, British plant expert Prof Nicola Spence tells producers not just to look inside their own industry for inspiration – but especially to others. "Rethink the traditional way of production," she advises.
Turning to the theme 'climate control', Patrick van Dijk, Fancom, explains why it is not enough just to ventilate. Calling 'permanent analysis' of 'paramount importance', he explains: "What if animals do not perform according to expectations? What if health problems occur? A pig house's climate often plays an important role in these problems."
It is a well-known problem, says columnist John Gadd, focusing on 'air movement'. He starts his column saying that 'many of my call-outs involve ventilation problems'.
Coming back to the French agricultural show SPACE once more, correspondent Philippe Caldier walked round and noticed there were quite a lot of energy and environment related novelties on show. He discusses some.
Topics regarding nutrition involve the role of phosphorus for pig health, the effect of plant phytates on added zinc in pig feed, how much alike pig and human gut health are, and also includes a description of oxidative stress in pigs – which could be counteracted by feed additives.
Mycotoxins are also touched on – in Expert Talk, Gerard Schultheis of Biomin discusses the exact importance of the EU authorisation of the label 'mycotoxin deactivating'. In addition, in a different article, the mycotoxin risk is discussed of keeping sows on straw.
For this and much more check out Pig Progress nr 9 now online