Latest issue of Pig Progress now online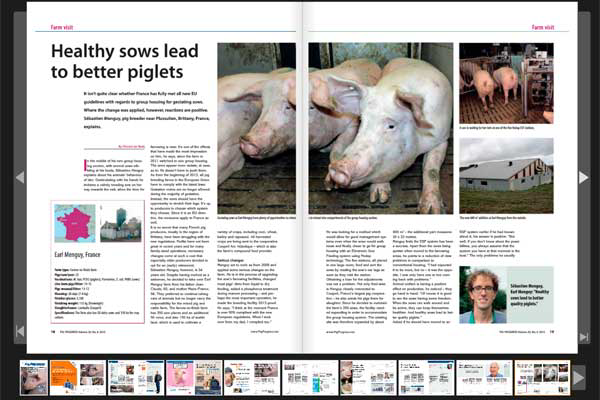 Some of the latest developments around the themes of piglet feeding and health are discussed in the latest issue of Pig Progress – you can read this year's number 8 issue online as from today.
The days of worrying about methicillin-resistant Staphylococcus aureus dominating the front pages are behind us, says Prof Dr Marc Heyndrickx, ILVO, Belgium. Continuous discovery in this area has taught us that MRSA does not constitute a direct threat. That does not mean, however, there is nothing new to discover about it. Dr Marijke Verhegghe, ILVO, followed the bacteria through the pig production chain and learnt about the bacteria's wide genetic variety of strains.
Not only the respiratory tract is being discussed in this issue, the gut is also an area of attention. Dr Marie Lewis of the University of Reading, UK, discusses the effect of antibiotic use and the effect on the microbiota population. She writes: "It is also becoming apparent that early-life antibiotics completely alter the families of bacteria which initially colonise the gut. In turn, this impacts on the families of bacteria which are present in the adult microbiota and has implications for long-term health."
As for the topic of piglet feeding, Pig Progress dives into a recent discovery of Wageningen University, the Netherlands – to present large pellets to piglets before weaning, instead of small creep feed. The animals apparently love it.
And everybody always focuses on weaning – but ever wondered how the second transition, from nursery to grow-finisher barn, can affect pig growth? Dr Bradley Lawrence, Novus International, USA, explains.
One special remark for Elanco president Jeff Simmons' contribution, who shares his views about how to feed the world in 2050. He acknowledges the importance of consumers having a choice – and reminds readers that 'organic farming now accounts for 4.2% of US food sales'. "That's fine for markets where consumers have abundant options and the money to spend based on their ecological world view. But on a global level, let's allow consumers around the world to make their decisions based on taste, cost and nutrition."
Also in this issue: A feature from a renovated farrow-to-finish farm in Brittany, France; an interview with Dr Francois Van Niekerk, one of South Africa's leading swine vets. Check it out