Largest pig complex in Russia to be constructed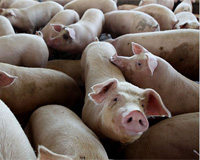 Agro-industrial holding Bio-tone has announced plans to begin construction of a large pork production complex in September in Russia with the total investment amount of 18 billion roubles (US$ 510 million).
The new complex will produce 96 thousands tonnes of pork per year. The pig houses will be designed for 480 thousands pigs of simultaneous keeping. The new complex will be the largest in Russia.
The preliminary date of the project implementation is the middle of 2017. The complex will be constructed in the Samara region in the south-east of the European part of Russia.

It will be constructed with the support of the Russian Agricultural Bank (RAB) and the Government of the Samara Region. The complex will have a closed production cycle and only the most modern and advanced equipment, according to representatives of the project.

"The company will bring together all parts of the production cycle: feed mill, eight modules for pig growing and fattening, as well as facilities for the primary processing of products. The pig houses will be designed for the 480,000 animals. It will be the nation's largest high-tech pig-breeding complex," representatives of the company Bio-tone stated.

The complex will be built withstrong support from the state. The Agricultural Bank will provide investors with the full range its offerings, thus providing loans on the most attractive and concessionary terms.
(By Vladislav Vorotnikov)