Keeping pigs outdoors pays off in the UK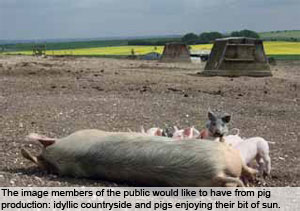 The United Kingdom is one of the few places in the world where pig production actually pays off well these days. About 40% of all pigs in the UK can be found in outdoor piggeries, which thrive due to an increasing domestic demand for British produce, quality and sustainably produced pork. Pig Progress stepped into the fields to discover more.
By Vincent ter Beek
With pride, Cameron Naughton looks at a friendly sow that allows her visitors to come close for observation. Her litter consists of twelve piglets – eleven larger healthy ones of about three weeks old and one little spotted fellow of only three days old. "Here we have a young one from a different sow that snuck under the fence," Naughton says.
What happens next looks like a little game. Carefully, the farm owner lowers himself to the ground, slowly approaching the sow and her piglets. Then, suddenly he moves forward in an attempt to grab the right one of the 48 rapidly moving pink legs. His third attempt is fruitful and smilingly he drops the squeaking creature to its real mother, located only yards away, just behind the electric fence.
Commercial pig production in the fields means breathing fresh air wherever you go. Located on a hilly landscape, with bright yellow canola fields stretching out in different directions, under a blue sky and a bright sun, it's picturesque to see the pigs running through a meadow, sows bathing in a pool of mud or little piglets escaping temporarily by running under a fence. It's what the public perceives to be natural and it's easy to understand why animal welfare organisations like to promote outdoor piggeries as the way forward.
Still, outdoor farming does have its disadvantages, even for the animals involved, explains Naughton, 43, of Bishops Cannings in Wiltshire, England. He and his wife Muriel rent a stretch of 320 hectares and on 30 ha of it they keep a 500-sow closed outdoor unit. Most animals can be found in the fields year- round, although Naughton says a winter like last year's did not make life for pigs very easy. "Last winter we had to go up into the fields and break the ice in the troughs everyday for a month. It just froze all the time," he says.
The climate has a strong influence on whatever happens in pig production, he explains. Too much frost kills more young piglets, too much snow helps sows escape and too much heat will dry the pools. Apart from climate considerations, he can sum up more disadvantages: water use is generally higher than in conventional pig production, feed conversion ratios are quite high due to the pigs' exercise, maintenance is labour intensive and there is a risk of increased pathogen exposure when pigs are kept outside.
Still, he loves to keep his pigs outdoors, and wouldn't want anything else. And why would he – he even has been making good money.
History
Cameron Naughton's father started up a mixed farm in 1958 and moved to the current site in 1970. Building on his father's basis, Naughton junior specialised into pigs and extended the central finishing facilities to a capacity of approximately 750 sows. Only recently he reduced the size to 500 and he doesn't expect to expand again due to strict environmental legislation. Ever since the Foot-and-Mouth scare in 2007, the farm's pig population has been closed, only with semen brought in for AI purposes in multiparous sows. Staff consists of five full-time employees and two part-timers. Apart from pigs, Naughton keeps a couple of sheep and geese, two dogs and ten cats as pets! Although the majority of the grounds are being used for crop cultivation, like rapeseed, wheat, barley and rough grass, Naughton considers himself to be a pig farmer above anything else. Neighbouring farmers assist in reaping the harvest while he concentrates on keeping his pigs. Parts of the crops are used for consumption by the pigs, but most is sold. The herd is moved to different locations in the higher parts of the rental land about every other year – the mobile huts for that reason are relatively easy to dismantle and rebuild somewhere else. "It's just a process that you need to get used to. The first hut always takes ages to take down and rebuild, but once you remember again, the rest goes a lot quicker."
West End Farm, technical details:
Number of sows: 500
Weekly output of pigs: 180
Slaughterweight pigs (lw): 85-105 kg, depending on market
Pigs sold to: Tulip/ M&S (70%), pork wholesalers (20%); local butchers (10%)
Sow vaccination: Erysipelas; parvovirus; clostridium; PCV2; Streptococcus suis
Piglet vaccination: None – only PCV2 as a test
Outdoor sow nutrition: Large pellets consisting of wheat, barley, soymeal, rapeseed
Finisher nutrition: Liquid feed with wheat, barley, soymeal, rapeseed, whey,
yoghurt, milk, beer yeast
Average Daily Weight Gain (ADWG): 780 g
Feed Conversion Rate (FCR): 2.9
Pre-weaning mortality: 8%
Overall mortality: 6%
Pigs/ sow/ year: 22
Pigs weaned/ litter: 9.9
Sow genetics: Landrace x Duroc, bred on-farm
Terminal sire: Hampshire (PIC)
1. Dry sows
Outdoor sow management is similar to indoor piggeries, Naughton explains. Using a three-week batch farrowing system, he keeps his dry sows in groups of about 20, which all stay in or near mobile huts or tents. He built up the collection over the years by purchasing them from other outdoor facilities. In total, he has 26 dry sow huts. The majority are located around a central insemination tent – the system being called a 'radial system' for that reason. Naughton says he can tell the sows enjoy the presence of a pool of mud. "Especially those sows that have been farrowing for a couple of weeks like it. They just head for the pool, take a swim and go back."
2. Lactating sows
Sows farrow in the fields as well, having purpose-built farrowing little huts at their disposal, which the vast majority will automatically use. In total, Naughton has collected 140 huts of various sizes and designs over the years, each surrounded by 20 x 20 m of own territory and closed off by electrical fencing. A barrier will enclose the entrance to the hut during the first three days after farrowing. As soon as the newborn piglets can walk around independently and not get lost, the barrier is taken away. Naughton finds that neighbouring sows in general behave sociably towards each other – "they will often go for a chat". To prevent disease spreading, the straw at hut's location is burnt and the hut is moved some metres before a new sow is moved in for farrowing.
3. Growers
At four weeks, piglets are weaned. They are housed in special weaning huts for each 50 weaner piglets, sorted on weight. They stay there until they are about 12-13 weeks of age, weighing between 30 and 40 kg. As castration has not been allowed in the UK for more than three decades, young male pigs grow to become boars. Hence, at the beginning of the grower phase, Naughton usually sorts males and females and keeps them in different groups. It is his experience that males grow faster than females and reach intended slaughterweight approximately three weeks earlier.
4. Finishers
Finally, the growers will be moved to the finishing facility. This facility is half open, a half-high door allows plenty of fresh air to come in. Finishers are kept in groups of about 40; the housing has to be cleaned manually at least twice a week. The finishers are fed liquid feed, on the basis of co-products, whey, yoghurt, milk and brewer's yeast and all of them are kept on straw. "I am probably one of the few producers in Britain with this combination," Naughton says, "keeping pigs on straw and feeding them liquid feed. But British producers always tend to think that they know best. They like to do it their own way." It depends on the pigs' gender and final market how long the animals are kept on-farm. Naughton sells 180 pigs per week, through three different channels. He sells about 70% of his pigs to the meat processor Tulip (Bristol), producing for e.g. Marks & Spencer retail stores, mainly for bacon production. These pigs live until they reach 105 kg slaughterweight or 77 kg deadweight. About 20% is sold to pork wholesalers and the last 10% is sold directly to local butchers. These pigs are multi-purpose, but will be slaughtered earlier, at between 85-90 kg liveweight or 60 kg deadweight.
Vibrant atmosphere at British Pig & Poultry Fair
This year's edition of the British Pig & Poultry Fair, held 11-12 May in Stoneleigh Park, Warwickshire, UK, had a scent of optimism after some years of gloomy prospects. The show was visited by 9,768 visitors, which was called 'the highest attendance figure in recent years' by the organising Royal Agricultural Society of England (RASE). The show reflected a positive atmosphere in the country as the UK has been one of the few in which pig producers have started to make money again. Mick Sloyan, chairman of the British Pig Executive, opened a press conference on the state of British pig production, mentioning the positive margin, averaging something like £4 (€4.70) per pig. He said, "Not only are we in the black, but we are also seeing improvements in productivity and the trend there is going in the right direction."
One of the reasons for success are ongoing marketing projects on 'quality assured product', for which a Red Tractor banner is being used. In addition, the British have become increasingly sensitive to be buying British products – and they appear to be willing to pay that little bit more when explained why. Pigs in Britain tend not to be kept indoors as much and are not castrated – whereas pork shipped in from abroad may originate from pigs grown under different circumstances.
The pig executive acknowledges that there's always room for improvement. Efficiency figures can rise, hence a new BPEX initiative was launched at the Fair to promote the 'two tonne sow' – a project as to how to reach an output of 2,000 kg of pork per sow. This target is easily met by e.g. Denmark, the Netherlands or France. Dr Mike Varley, BPEX head of R&D and knowledge transfer, said this ought to be done in Britain too. Extra focus need to be given to different aspects of production, like breeding, finishing, health, nutrition, buildings, and training.
The two-tonne sow programme covers it all," Varley explained. "We have been trying to look for an angle which allows us to point to all kinds of different directions to move forward."
One of the main problems to be resolved in this respect however is the matter of slaughterweight. For historical reasons, e.g. because of the non-castration policy in Britain, pigs are sent to slaughter earlier than elsewhere in Europe. This needs a change of attitude from processors as well, Varley said.

More pictures and information about this show can be found at www.pigprogress.net/photo-gallery/events
Profitable at last
Naughton says that over the last eighteen months he has been making good money with his farm, mainly due to the favourable exchange rate and a shortage of UK product. "It costs us £7 (€8.35) per pig more to produce pigs this way than more intensive European systems. At the moment I am getting a premium to cover this, however, in the 25 years that I have kept pigs we have only received premiums to cover extra costs for two and half years. The rest of the time we have had to compete at commercial prices. We choose to keep pigs this way because it complements the arable rotation, improving soil fertility, and because we think it's best for the pigs." British producers are currently profiting from a weaker euro. Since this means that prices paid for pigs on the European continent will have to increase, Britain's processors happily pay those extra pennies to keep the British pork in Britain.
Last but not least – what does Naughton think about the marketing image of pork reared in the countryside as being healthy and delicious?
"There are people who say that pigs grown outdoors taste a lot better. I don't know if this is true. There are so many places where things can go wrong in relation to flavour, e.g. during slaughtering or processing," Naughton says.
He smiles and adds, "Besides – I couldn't tell you the difference anyway. All the pork I eat is my own."
More pictures and information about this visit can be found at www.pigprogress.net/photo-gallery/farm-visits