JSR wins Queen's Award for International Trade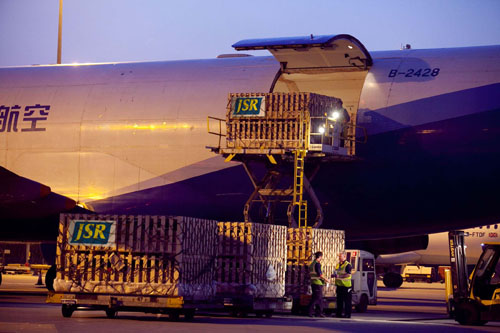 UK pig genetics company, JSR Genetics won the prestigious Queen's Award for Enterprise in International Trade as recognition for outstanding export success.
This is the second time the Yorkshire based company has received the award, made in honour of the Queen's birthday and recognises an overall growth in earnings of 117% over a 3 year period.
"We are delighted to receive this honour" says Tim Rymer, JSR chairman. "The last decade has been particularly challenging for the UK Pig Industry and international breeding stock sales, not least with two Foot and Mouth outbreaks which effectively stop exports overnight for month's even years, depending on the destination country. I would like to congratulate the whole JSR team including Dr Grant Walling our Managing Director, Paul Anderson our International Sales Director, and our worldwide partners for their endeavour and support.
It is also a real bonus to win this award in a Diamond Jubilee and Olympic year."
JSR's success is a result of focusing on key pork eating regions of Asia and Eastern Europe, which between them consume over half the world's pork. Sales to China have driven the growth over the last 3 years with a series of multi-million pound contracts culminating with a Joint Venture Nucleus agreement with HBCOF in Hubei province in 2011.
Also in 2011 sales in Russia reached £1.5 million. The Asian and Eastern European regions continue to present huge opportunities as large companies source the best genetics and technology to meet government objectives on pork self sufficiency.
JSR has established partnerships and production units across the globe including Europe, Asia, Africa and the Americas and is represented in over 30 countries worldwide.
The company is developing its service business which now manages 10 Nucleus herds for 3rd party customers from its base in Southburn, East Yorkshire.
"Many countries are focused on improving self sufficiency to meet the growing demand for food" comments Dr Walling, JSR Genetics' managing director. "Our foundations are firmly in science and technology. Our focus is on breeding better animals that make our customers more competitive and ultimately allow them to build sustainable businesses. We can only do this by supporting the animals with the best technical support and complimentary services to ensure they get the very best out of the animals they have."
In China where an FCR (Food Conversion Ratio) of 5:1 is standard – 5 kilos of feed to produce 1 kilo of pork – JSR can reduce this by 50% to 2.5:1 through importation of genetics. Feed represents up to 70% of the cost of production.
"We have animals that produce a lot of piglets and convert feed into lean meat very efficiently. This reduces our customers' costs significantly. Furthermore less land is needed to feed a JSR pig thereby allowing that extra land to be used for alternative uses. This contributes to the JSR pig having a lower carbon footprint".