JSR: New 8500 place pig finishing facility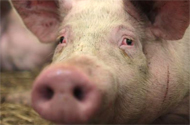 Sustained investment in modern weaning and finishing facilities, which incorporate new ideas, science and technology, is vital to the ongoing success and growth of the UK pig Industry.
That was the message from Carsten Jakobsen, Chairman, Tulip Ltd UK who, as invited guest of honour, officially opened JSR's new 8500 place Weaning to Finishing Facility based at Decoy, East Yorkshire on Wednesday 7th July.
The facility, which has taken 2 years to design, plan and construct, is built on a greenfield site, and includes 5 nurseries with 6 pens, all fully slated with plastic slats. The unit will be supplied with progeny from JSR GP90 parent gilts, mated with the JSR Geneconverter sire line. Piglets will be delivered in weekly batches of 800 from JSRs 1800 sow Haywold commercial unit, filling each of the 5 nurseries.
JSR Chairman Tim Rymer said, "As an industry, despite the challenges faced in the last 10 years, we continue to make huge strides in genetic advancement and as a result see huge potential in breeding performance. However, the industry must invest in modern finishing facilities if it is to realise this potential, as feed accounts for 55% of the cost of production.
"As the UK's leading pig breeder it is vital that we understand how our pigs perform in a commercial environment. This investment not only allows us to realise the excellent performance from our breeding programmes, but also ensures new training opportunities for our staff and further research and utilisation of "liquid gold" – separated pig slurry as fertilizer applied to the arable crops.
Minimise labour and maintenence
Commenting on the development Glenn Dams, Managing Director, said "The construction of the site is designed to minimise labour and maintenance requirements. The site will be operated by 2 full time staff who will be able to maximise the time spent monitoring the performance and the welfare of the animals. In addition the facility can be monitored remotely from the JSRHQ in Southburn through the Skov Farm Watch programme. The facility will be supported by our production and technical teams with feed and growth data collected monthly from an annual throughput of almost 20,000 pigs. The facility also includes office space, a visitor's reception, shower facilities and a high level of biosecurity."
Significant planning and research has ensured that leading industry specialists have delivered the project; the buildings have been constructed by Warcups, the ventilation system is from Skov, which includes environmental monitoring, the feed delivery system is the Roxell Multifast dry feed system and Crystal Springs wet and dry feeders have been imported from the USA supplying feed to the Gro Master Sorters. The facility includes a borehole with magnesium filtration.
"The UK pig industry has a real opportunity to invest in its future," concludes Mr Rymer, "Such investment will help ensure we improve our competitiveness whilst also maintaining our reputation for high welfare"