JSR Genetics to build new Nucleus in China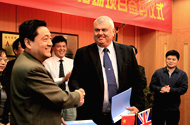 JSR Genetics, the UK-based international pig breeding company, has agreed a joint venture to build and stock a state of the art Nucleus on a Greenfield site in China.
The 900 sow Nucleus will be located in Hubei province and is expected to be completed by December 2010. The deal, which includes the shipment of both dam lines and sire lines to the Hubei province, reinforces JSR's commitment to investing in Nucleus facilities within their target markets.
The signing ceremony between JSR (China) Limited – a wholly owned subsidiary of JSR Genetics UK – and Hubei Liangyou Livestock and Poultry Company Limited took place on 1st April 2010 between Paul Anderson, JSR's International Sales Director and Shenghong Li, General Manager of HBCOF.
"These are very exciting times for JSR and UK genetics in China," confirms Paul Anderson. "China is an increasingly prosperous country with an expanding economy and also a growing population of discerning pork eaters. Members of the Hubei team will be spending three months with JSR in the UK to undertake specific nucleus herd training covering all aspects of the JSR on farm guide to maximise production. Coupled with our extensive technical support, it will create a strong foundation ensuring Chinese producers can achieve optimum performance from their breeding pyramids. JSR is also advising on unit design and specification."
The company
To be known as Hubei Liangyou JSR Breeding Limited, the company will import 700 JSR Genepacker Large White and JSR Genepacker Landrace dams and 250 JSR Geneconverter 500 and JSR Geneconverter 600 sires. The herd will be situated in the Xiangyang District of the Hubei Province and distribution rights will allow JSR breeding stock and semen to be sold throughout the Hubei, Hunan, Henan, Jiangxi and Anhui regions.
"Our choice of JSR was influenced by the level of technical support that they offer," says Guohong Quan for Hubei Liangyou Livestock and Poultry Company Ltd, "we realise that this is vital to realising the full potential of such a large capital investment. We also appreciate their detailed input on matching the JSR breeds to our specific market conditions and requirements."
"We are taking delivery of the animals in December 2010 to produce our first purebred JSR breeding stock by the end of 2011. There are up to 15 million sows within our sales territory and we believe the impact of JSR genetics in terms of improving productivity within the region will be dramatic: current average productivity is less than 16 pigs per sow per year, this is compared to the JSR average commercial production performance of over 25 pigs per sow sold per year."
JSR will be supplying a full time Farm Manager to support the new nucleus herd along with the bespoke genetic database software 'JSR Select'. "This will allow us to manage our breeding programmes by selecting from a flexible database of genetic traits," says Shenghong Li, "it is a piece of new technology that will bring huge benefits to our rapidly developing breeding sector."
"The Chinese have been great to work with – enthusiastic, knowledgeable, committed to R&D and very open to sharing ideas and expertise. There is a great deal of opportunity here for UK genetics and with strong relations the level of business will increase," concludes Paul Anderson.