JSR breeding pigs make it to China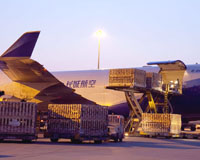 Over eight-hundred high health, genetically advanced breeding pigs have successfully touched down in China this week. The animals were transported from the UK onboard a specially chartered 747 aircraft on behalf of JSR Genetics.
The pigs are the first shipment to Guangzhou Animal Husbandry Company (GZAH), based in Guangzhou province, which will stock a new breeding Nucleus farm. The pigs were JSR Genepacker GGP Gilts and JSR Geneconverter GGP Boars, and all arrived safely into their Chinese isolation.
"This is a great success for JSR and the start of a long business relationship with GZAH" comments Paul Anderson, International Sales Director, JSR. "Following the signing of the contract in Beijing in November 2010, attended by Vince Cable, UK Business Secretary, a lot of work has been put in to ensure we delivered successfully on the contract."
The pigs were accompanied by Darren Farnsworth, JSR's Export Coordinator. "The flight went very much to plan; the pigs were delivered on time, safely and in good health. We are especially thankful to DEFRA for helping to negotiate some last minute issues with the Chinese authorities." This was the first shipment of British pigs delivered under the new, more demanding Chinese health certificate.
China is home to half the world's pigs and pork consumption is growing as the Chinese choose to eat more meat. This is therefore the most important world market for JSR and will be the major source of growth for the Company over the next 10 years.
Mr Wen Wei Long of the Guangzhou Animal Husbandry Company comments, "We are satisfied that JSR not only provide world class genetics but also the on-going technological support we need to fully realise the potential of our investment here in Guangzhou."