Jamie Oliver tells TV viewers 'Buy British' pork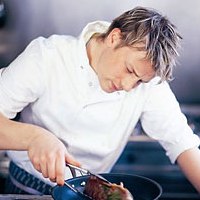 Britain's pig industry has received a PR boost worth millions of pounds after a programme fronted by TV chef Jamie Oliver told shoppers they had no excuse not to buy British, writes UK-based Farmers Weekly.
Oliver's 90-minute special called Jamie Saves our Bacon, was aired on 29th January and highlighted how much of the pork eaten in this country is imported from farms which use systems that are banned in the UK. It showed how higher welfare standards in the UK had left domestic producers open to unfair competition from EU pig farmers.
Britains food labelling system was also addressed as it is confusing for customers who want to buy British. Barney Kay, National Pig Association general manager, said he was delighted with the programme and described it as "one of the most significant things" to happen to the industry.
Chris Lamb, BPEX marketing manager, said the industry would not have been able to generate the same amount of publicity Jamie Oliver's show had. "This is a 90-minute advert endorsed by a man that Sainsbury's pays £1m a year to promote its brand. This is publicity that the pig industry could just not buy," he said.
Sainsbury's expected an increase in pigmeat sales following the programme, according to a company spokesman. "I think the public trust Jamie Oliver and programmes like this do have a significant impact on buying behaviour," he said.
A Tesco spokeswoman said the retailer was encouraging customers to try cheaper cuts of meat, while a Waitrose commented that its stores had made provisions for increased demand for UK pigmeat following the show.
Clips from the programme 'Jamie saves our bacon' can be found on youtube
Related Website
• National Pig Association
• Bpex