Irish pig meat no longer banned in Russia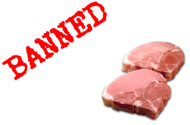 Junior Agriculture Minister and Clare T.D., Mr. Tony Killeen has warmly welcomed the decision by the Russian Federation to reopen its market to Irish pig meat with effect from the beginning of February.
The market has been closed since the dioxin incident in December 2008.© According to Minister of State Killeen: "The temporary ban on imports of Irish pork and pork products has been lifted as from the 1 February 2010 and in this regard pork and pork products produced after that date can be exported from Ireland to the Russian Federation."
Considerable growth expected
Minister of State Killeen said the announcement was hugely significant as Russia previously was a significant market for pig meat producers in Ireland.© He noted: "The Russian pig meat market was valued at over 12 million euros in 2007. I have no doubt that that Russian market for Irish pork products is one that has considerable potential to grow."
Access to many international markets
"The Department of Agriculture, Fisheries and Food, together with Bord Bia and the Irish Embassy in Moscow, has been working vigorously to regain access to this important market. The reopening of the market is recognition that the production of pig meat in Ireland is subject to extremely rigorous controls and reflects the importance we place on high standards for food safety. The Department's intention as always is to ensure access to as many international markets as possible for all Irish meats and meat products". ©Mr. Killeen further added.
©