Irish pig industry dealt blow with dioxin scare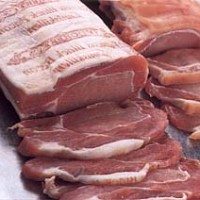 Tainted Irish pig meat might have been exported to 25 countries reported Ireland's chief vet on Sunday, as shops in Ireland and overseas removed pork from their shelves due to fears of a cancer link.
"We believe it's in the order of 20 to 25 countries," said chief vet Paddy Rogan.
Pig meat products withdrawn due to dioxin
Rogan's statements came after ministers Saturday instructed all pig meat products from the Republic of Ireland to be recalled as dioxins, which may cause cancer, were discovered in slaughtered pigs which are©thought to have eaten contaminated feed.
Recall
Products processed from the 1 September were recalled, this has resulted consumer alarm in Ireland, where many families would have been©shopping for©their traditional Christmas ham during this period.
Ireland is a major exporter of pork, with Britain the largest market followed by Germany, France, Russia and Japan. Hong Kong, China and the Netherlands are also major export destinations.
Source of contaminated feed
Currently, officials and police are investigating the possible source of the contaminated feed, a plant run by Millstream Power Recycling Limited near Fenagh, County Carlow in southwest Ireland.
Company spokesman, David Curtin stated that what was under investigation was oil used in machinery used to dry the recycled bread products and dough – ingredients in the feed.
Prime Minister calms situation
Brian Cowen, Irish Prime Minister attempted to calm the situation, by stating that it was important his government took "whatever measures are necessary" to build confidence in the industry for the future.
©
"The problem has been located. The continuing examination and inquiries will proceed and we must take action to reinforce confidence to the public, and obviously also allow the industry to move on from this point," Cowen said.
©
This is another©strike to recession-hit Ireland. Currently, approximately 5,000 people work in a pig meat industry which exported 129,000 tonnes worth 368 million euros (468 million dollars) in 2007, official figures say.
©
Irish and British – no eating domestic pork
The Irish are warned against©consuming domestically-reared pork meat, bacon, pork sausages, sausage meat, gammon steaks, offal from pigs, salami, ham, sausage rolls, black pudding and white pudding.
©
The shelves of supermarkets have been cleared of Irish pork products while stockists in Britain, like retail giant Waitrose, have also©removed©them as officials suggest that consumers not eat Irish or Northern Irish pork.
©
Germany, France and Belgium affected
Reports further state that Germany stated it was removing all Irish pork products off the shelves as a safety measure, while contaminated Irish pork has been found in France and Belgium. The European Commission is closely monitoring the situation.
©
Dioxin – food safety
Dioxins are toxic chemicals that can have serious health effects – like causing cancers, if there is long-term exposure to them at high levels.
©
Food Safety Authority of Ireland deputy chief executive Alan Reilly said dioxin levels found in meat samples were between 80 and 200 times above the legal limit but stressed the risk to the public was "very, very low".
©
Reilly stated that, "You would have to be eating products containing these chemicals for 40 years before you would show any signs of illness."
©
Contaminated feed at Irish farms
The contaminated feed was supplied to ten Irish farms, which supply approximately 10% of Ireland's pigs.
©
There are nine farms in Northern Ireland which have also used the contaminated feed.