Investments of EUR 50 million in pig breeding in Russia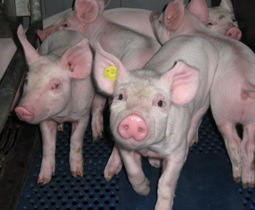 Cooperl Arc Atlantique, one of the biggest French pork producers and Russian Pulkovo group of companies based in St. Petersburg signed an agreement to establish a joint center for pig breeding and selection.
The amount of investments in the project is estimated at the level of 2.5 billion rubles (EUR 50 million) while it will be implemented on the territory of the Leningrad, Pskov and Novgorod regions during the next three years.
According to General Director, Sergei Nikolayev, of the new joint venture which is known as "Nucleus Pulkovsky", 51% of its ownership is taken by Pulkovo and 49% by Kooperl. The authorised capital of the company at the initial stage will amount to €4 million.
©
The construction and design of the enterprise is scheduled for 2010, while the duration of the project is 3 years. Most of the investment funds will be borrowed from the equity capitals of the companies and bank loans.
©
The new breeding genetics center will consist of a breeding plant for 665 sows of four breeds and a multiplication unit for 2,200 sows. The new center will be able to provide genetic material for pig population in a number of 500,000 heads a year. Pulkovo suggests that the company will be one the largest breeding centers in Russia and fully self-sufficient.
Pulkovo Group of companies was established in 1992 and currently is one of the biggest pork and beef importers in Russia. Since 2005, it has invested in the development of agro-industrial projects in Russia, in particular commercial ranches, sow farms, feed plants etc. (Evegen Vorotnikov)