Innov'Space**: Sanitest diagnostic device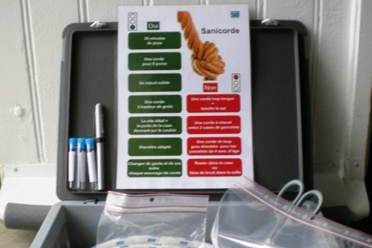 Sanicorde is a new, non-invasive sampling system, designed for a specific category of pigs.
This is an innovative technique, based on the saliva collected when the pigs chew on a cord suspended over the pen. Sampling is collective, representative and non-invasive.
Sanicorde is easy to install and enables the diagnosis of diseases caused by Circovirus porcine type-2 and adaptation of the vaccination programme to piglet immunity and the circulation of the virus on the unit.
An independent jury of experts awarded this product: Two stars – Merial, Lyon-Villeurbanne, France.