Indonesia: A lawsuit against the government may unravel due to vaccine with pig enzymes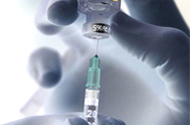 The Indonesian Health Consumers Empowerment Foundation may file a class action lawsuit against the Health Ministry and the Food and Drugs Monitoring Agency (BPOM). It has been claimed that there was a failure in informing the public about pig enzymes in a meningitis vaccine.
The Jakarta Post has reported that the possible lawsuit may take place due to a meningitis vaccine intended for Indonesian muslim pilgrims which contains pig enzymes.
©
Violation against consumers
"They have violated the 1999 Consumer Protection law and the 2008 Public Information Law, which guarantee the public and consumers the right to be informed about safety and the details of a product's ingredients – in this case, the Novartis meningitis vaccine," said Marius Widjajarta,©Indonesian Health Consumers Empowerment Foundation chairman.
The report stated that the Indonesian government wants the vaccine to replace the vaccine made by Britain's GlaxoSmithKline that Indonesian hajj pilgrims were using.
©
Containing pig enzymes
The Indonesia Ulema Council (MUI) stated that the vaccines made by Novartis and the Tian Yuan in China were acceptable for Muslims, and that Glaxo's vaccine was forbidden.
According to the report, the MUI also said that the Glaxo vaccine contained traces of pig enzymes; however the other two vaccines have no traces.
©
In a rebuttle to this view, there are some Muslims scientists who state that Norvatis vaccine in addition to the Glaxo vaccine must also be declared as forbidden, due to contact with pig enzymes in the manufacturing process.
©
The Muslim scientists refer to international academic journals which say that research institutes produced seed stock using the Mueller-Hinton medium and thus "came into contact" with pig enzymes, said the Jakarta Post. And the scientist believe that both companies received their seed vaccine stock from these research institutes.
The Council claimed that the Novartis and the Tian Yuan vaccines were not contaminated by pig enzymes in their manufacturing processes, as they originally contained only bovine elements.
©
The issue continues.
Related websites:
©