Hypor to buy purebred Duroc nucleus herd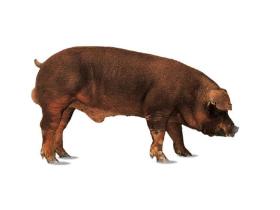 Hypor, a Hendrix Genetics company, will purchase the purebred nucleus herd of Canadian based, purebred Duroc breeder, Shade Oak Swine, including all owned AI boars and located at various third party AI stations and all related intellectual property rights.
Additionally, Hypor will enter into a distribution agreement with Shade Oak's boar stud division known as Total Swine Genetics (TSG).
The Memorandum of Understanding, related to the purchase of this high health herd builds on the foundation of two genetics companies committed to the improvement of the purebred Duroc terminal sire line. Integration of the two gene pools allows Hypor to strengthen and optimise its Duroc sire line programme. The transaction is expected to be completed in the third quarter of 2009.
Development
Gerjan van Alst, general manager, Hypor North America, said, "For almost 25 years, Shade Oak Swine has been totally focused on the development of their Duroc terminal sire lines. Like Hypor, Shade Oak Swine believes in the value of using the most advanced testing and breeding evaluation programmes available to produce sires that meet the needs of both producers and processors."
Shade Oak Swine president Arnold Ypma stated, "We became leaders by adopting the industry's latest and most advanced testing tools, but ongoing advances in genetic selection technology now come with a very high price tag. Hypor's resources and commitment to molecular research ensures that our customers will reap the benefits of new developments." Ypma will be appointed to the Hypor Sire Line Genetic Advisory Committee.
Ownership
The ownership and operations of the TSG AI stud are not affected by this transaction. Hypor will continue to supply Shade Oak genetics to TSG.

The combined size of the two herds will significantly increase the purebred Duroc gene pool. Customers of both companies will have access to Hypor's inhouse BLUP and data gathering technology. Hypor's Combined Crossbred and Purebred Selection (CCPS) programme will continue to maximise product performance at the commercial level.
Related websites
• Hypor
• Shade Oak Swine
©