Hong Kong: flu reassorts with H1N1 from pig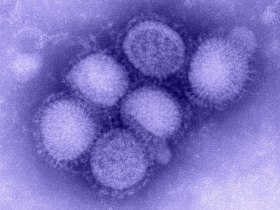 In its regular influenza virus surveillance programme, the University of Hong Kong (HKU) found that one sample taken from a pig at the Sheung Shui Slaughterhouse early January, contained a virus which was essentially a swine influenza virus (SIV) but had picked up a pandemic H1N1 gene by genetic reassortment.
This was reported by the ProMed mail service of the International Society on Infectious Diseases (ISID). The precise genotypes of the swine influenza virus and the putative recombinant were not revealed.
Not unusual
The event is not unusual, as the pandemic H1N1 virus is itself a multiple reassortant. The report writes that "the events are likely occurring worldwide and its detection in Hong Kong was purely the consequence of intensive surveillance."
The report emphasises that there is no cause for alarm for public health and pork remains safe for consumption. The Hong Kong government is closely monitoring developments and shall continue to keep the public informed.
First time
Although not totally unexpected, this is the fist time that reassortment of swine influenza virus with the pandemic H1N1 virus has been found in the surveillance programme. Further tests are being conducted by HKU to determine if there are any particular characteristics of this strain.
Not in humans
A spokesman for the Centre for Health Protection also said: "Laboratory surveillance on human specimens by the Department of Health (DH) has not detected similar viruses in humans. There is no sign that the virus is present in Hong Kong population at this time. The DH will maintain intensive surveillance of influenza in humans. Preliminary findings also show that the virus is sensitive to antiviral drug, oseltamivir."
The CFS spokesman said: "The sample was taken from a pig imported from the mainland. We have informed the mainland authorities so that they can further step up the monitoring and inspection of the registered farms supplying live pigs to Hong Kong."
All imported live pigs from the mainland come from registered farms and are accompanied by health certificates issued by the mainland authorities. The Food and Environmental Hygiene Department (FEHD) will also carry out inspection at the boundary control point. Pigs have to go through ante-mortem and post-mortem inspection in the slaughterhouses. Only pigs which pass the inspection can be supplied to the market.
Personal hygiene
Apart from stepping up inspection of imported live pigs, FEHD has again reminded slaughterhouse staff and people who might be in contact with live pigs to pay attention to personal hygiene, and to wear masks and appropriate protective gear at work.©To date over one-3rd of those involved in pig farming and slaughtering trade have received the human swine influenza vaccine.
The Agriculture, Fisheries and Conservation Department will continue to inspect and closely monitor the health condition of pigs on local pig farms. Any pig with clinical signs of swine influenza will be carefully examined and samples will be taken for diagnosis.
Related website:
• International Society for Infectious Diseases (ISID)
• University of Hong Kong (HKU)