Highly toxic feed additives found in Taiwanese pork products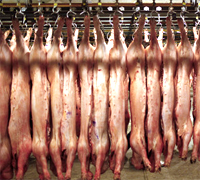 Traces of two highly toxic feed additives were allegedly discovered in sausage products from T-Ham and Hsin Tung Yang. Salbutamol as well as cimaterol, feed additives promote lean meat, are much more toxic to humans than ractopamine.
The tests on the products were carried out I-Mei Foods Co's food safety lab. According to the tests 9.16 parts per billion (ppb) of salbutamol and 4.98ppb of cimaterol were found in T-Ham's sausage, while 0.68ppb of salbutamol and 2.98ppb of cimaterol in Hsin Tung Yang's sausage. Pork meats which were purchased at supermarkets also tested positive for salbutamol residues.
Salbutamol 2,000 times more toxic
Lai Shiow-suey, a professor emeritus at National Taiwan University's School of Veterinary Medicine, has said that "salbutamol is 2,000 times more toxic than the more commonly known ractopamine."
According to Chinese Nationalist Party (KMT) Legislator Alex Tsai, pig farmers prefer the use of salbutamol over ractopamine as a leanness promoting feed additive for pigs because ractopamine is more costly.
"Health authorities should conduct residue tests not only for ractopamine, but also other types of meat-enhancing feed additives," he said.
Wu Rong-tsan, an associate general manager at I-Mei Foods, was asked to confirm the test results, however said its food safety lab did not provide Tsai with the results because the lab was not commissioned by Tsai to conduct the tests. Tsai did not mention how he obtained the test results.
"Since the issue has drawn a lot of attention, there has been an increase in the number of cases sent to the lab for testing. In accordance with business ethics, we cannot comment on test results or give the results to people who are not our clients," Wu said.
As of now, the Department of Health and the Council of Agriculture is requiring pig farmers to show certificates that state that their pigs were not fed meat-enhancing additives to ensure meat safety.
The allegations come just five days after staging a protest against a government plan to lift a ban on imports of US beef containing residues of the feed additive ractopamine. T-Ham and Hsin Tung Yang rejected the lab's findings.