Germany: Total number of culled pigs now almost 12,000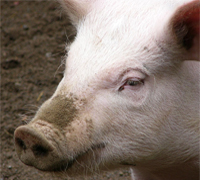 The size of the German feed contamination problem appears to be growing. Last week, the total number of pigs to be culled amounted to 11,900 pigs.
The pigs were known to have been fed feed that contained the antibiotic chloramphenicol, which has been prohibited in the European Union since 1994.
The contamination in pigs was discovered two weeks ago when chloramphenicol residues were found in pig urine, causing the temporary closure of pig farms. Some farms were re-opened after a while; in others, however, the antibiotic was found in the pigs' urin too.
The source of the chloramphenicol, dairy product manufacturer Ehrmann, used the chloramphenicol as a laboratory safety procedure. The product ended up in feed due to careless treatment of laboratory trash.
The Bavarian state authority for Health and Retail Safety stated that meat from the pig farms involved should not enter the food chain. The Ehrmann company has already indicated that it will compensate pig farmers who have got into trouble due to the contamination.