Germany: Pork processors guarantee boar purchases without deduction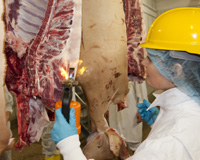 Three large pig slaughterers and processors in Germany have confirmed that they will purchase entire finisher boars without any price deduction.
Vion, Westfleisch and Tönnies, the three leading slaughterhouses gave this promise in a joint statement. This way, the road is cleared to end the practice of physical castration without use of anaesthetics.
Effectively, this means that the processors no longer discourage the production of entire boars.
One of the major reasons for the initiative is the policy of the German quality and security supervisor QS to compel the use of the human nose in order to identify tainted boar meat by July 1. The human nose will keep this function until an effective electronic boar taint detector has been created.
Two other factors are important – the so-called Declaration of Düsseldorf, that paves the way for the phasing out of piglet castration in 2018. In addition, the German federal government aims to have anaelgetics during castration mandatory by 2017.
The three processors together have a market share of approximately 55% in Germany, Europe's main pig market. Insiders say that the threefold initiative would be an attack on the finisher pig market, as these three with their export orientation and necessary equipment have the possibilities to market tainted boar meat.
Although different scientific opinions exist, it is estimated that between 3% and 6% of all boar carcasses have boar taint.
Related websites: