Generating as much renewable energy as possible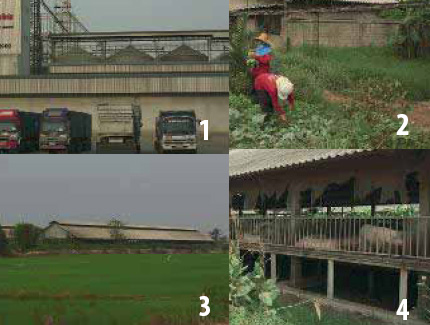 Thailand's Ratchaburi province is one of the main regions for pig production in the country. It has ample sources for raw materials and with the large market of Bangkok close by, the area offers every opportunity a pig farmer could wish for. SPM feed mill and pig farm moved into a new dimension of renewable energy in an attempt to remain cost-effective.
Two large glass cupboards welcome any visitor who passes the threshold into the main building. An impressive collection of trophies, pictures, awards, diplomas and charters are proudly displayed and gaze at every onlooker.
The owner of these prizes is not a successful Thai football club, however, but SPM Farms, located in Ratchaburi Province, about 1.5 hours' drive west of Bangkok. The majority of the prizes have been won for the company's effective use of biogas. For instance, the farm was awarded the second prize in the Asean Energy Awards in 2007 and won the National Innovation Award one year later for its system to generate use from biogas.
The use of biogas, however, is just one of the actions that managing director Somchai Nitikanchana, has taken to make SPM a success. Not only are pigs the output of the farm – in total, Somchai makes a difference between nine types of products made at the farm. He smiles while he starts counting proudly: "Pigs; slurry for fertiliser; organic vegetables; bananas; moina water fleas as aquafeed; electricity; carbon credits; palm oil – and yes, also pig feed."
Strong and weak points
The complex is a multisite facility, with 16,000 sows in total and an own feed mill – among the larger privately-owned operations in Thailand.
Owned by Somchai's three children (hence S, P and M), SPM is the result of 20 years of work. Starting out as a small feed mill with limited pig production, it became a large business by both saving on production costs and focusing on renewable energy. Somchai says, "Every business has its strong and its weak points. The strong point of the pig business in Thailand is that one can control production costs. The weak point is that we cannot control selling prices as they are controlled and fixed by the Thai Ministry of Agriculture."As from 1990, Somchai has been managing director and he developed a business in which the environment becomes key – and in which virtually every little bit of his animal waste is reused so that he saves on costs everywhere.
Start
The agribusiness complex consists of two main multisite locations, roughly 50 km apart from each other. In total 1,000 employees are working for SPM. Both locations consist of a breeder farm, a weaner farm and about three finishing complexes. At the main location, SPM has its own feed mill, which has a total capacity of 18,000 tonnes of feed/month – or over 200,000 tonnes of feed/year. About 50% is destined for SPM's own pigs, the other 50% is sold, see picture 1.
The total complex of SPM farms is populated by 16,000 sows, it has more than 100,000 finishing places and sells over 20,000 pigs/month to the market through brokers – this equals approximately 300,000 pigs finished per year.
The finishing facility in the neighbourhood of the feed mill has 22 buildings equipped with evaporative ventilation – but in fact, this site looks more like a vegetable garden with pig sheds in between. Only the familiar pig smell gives away it's actually the other way round. Banana trees flank both sides of most finisher buildings, while in front of the buildings, most of the employees have areas where they can grow their own vegetables and fruits (picture 2).The focus of this site is to create as much reusable energy as possible, Somchai explains. Manure is initially used for biogas production. The biogas is first and foremost used for reuse on the farm itself; any leftovers, especially in winter time when cooling down is not so necessary, can be sold to the Provincial Electricity Authority. Figures show the difference – before installing the biogas system, this 22-building facility cost about 200,000 baht/month (€4,600) in electricity costs. Nowadays, costs are on average substantially less than 200,000 baht per three months and that is excluding any payback from the electricity authority (between 10,000 and 30,000 baht/month, depending on the season).Leftovers from the biogas facility are being used as well, as they serve as fertilisers of the banana trees and vegetable gardens. Waste water treatment will make sure that any water can be used for cleaning or feeding the crops.
Breeding site
Growers (until 20 kg) are raised at a location not much further down the road, and the tour of the complex comes full circle as the breeding facility is located straight behind the feed mill, placed atmospherically around rice fields and a lake, see picture 3. Farm buildings are being knocked down here, as older types of sow buildings (open, with an elevated level, slurry being collected below) are gradually being replaced by novel ones. Picture 4 shows one of these older barns, with older sows, waiting to go to the slaughterhouse.
In the novel buildings, equipped with brand new farrowing crates, it's on the roof where the energy saving innovation is constructed. Recently, solar panels have been placed there, with a connection to a nearby turbine. So-called 'solar thermal energy' will be used to warm up heated water beds in farrowing houses, to keep newborn piglets warm at a temperature of 40˚C. Rest energy from the biogas generators is used for the same purpose. It's a project that has already generated quite some attention from local agricultural media. Last but not least – the future will bring more projects to save on production costs, Somchai says. Soon SPM will also start the cultivation of palm trees for palm oil production, using manure and water from the farm's pigs. Sounds like another extra glass cupboard may soon be needed near the entrance.
SPM feed mill and pig farm
Sow numbers: 16,000Finished pigs/year: 300,000Slaughterweight: 100-105 kg (lw)Piglets weaned/sow/year: 22-24Weaning age: 24 daysAverage Daily Gain (20-100 kg): 700 gFeed Conversion Rate (20-100 kg): 2.7-2.8Dam line: Large White, LandraceSire line: Duroc, PiétrainVaccination: CSF, FMD, Aujeszky's Disease, App (sometimes), treatments to various forms of diarrhoeaAntibiotics: sometimes, depends on situation.