FVO: Belgium should improve pig, poultry welfare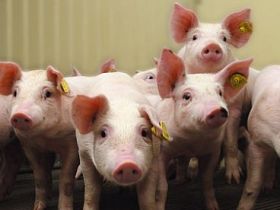 Belgium should better maintain animal welfare legislation, a recent report (Dec 2009) by the European Food and Veterinary Office (FVO) concludes. In both pig and poultry facilities, shortcomings have been noted.
The FVO visited Belgium in May last year and attended inspections at several pig and poultry production sites and slaughterhouses. The objective of the mission was to verify that official controls are carried out in accordance with the multi-annual national control plan (MANCP).
Area requirements
Predominantly area requirements were neglected in several farms. Repetitively, too many layer hens were put in cages and in pigs, troughs were counted as surface area, although this practice is not allowed.
In addition, the FVO audit found that surgical operations like beak clipping, tail docking and tooth clipping were not performed in accordance with the rules. In pigs, chains were considered to be proper 'toys' – which should not be the case according to European guidelines. In addition, ill or wounded animals were sometimes left to suffer whereas euthanising would have been better.
Irregularities
When irregularities were found, Belgian inspectors often turned a blind eye, while they ought not to have done so, the FVO writes. In case a report of the control was made, often a fixed timeframe to solve the irregularity was missing.
In addition, FVO inspectors criticised controls on animal transport and slaughter. Especially in poultry transports, too many animals were uploaded in trucks. Controls to driving and resting times were insufficient, as well as the controls to ventilation and feed and water supplies.
Slaughter
Animal welfare during slaughter – and especially stunning efficiency – had not been improved in comparison to the last FVO inspection in 2006. Belgian inspectors had failed to notice the malfunctioning of a water bath stunning method at a poultry slaughterhouse.
The audit report says: "The report concludes that there have been improvements noted in official controls on the farm animal welfare sector since the last mission on this topic in 2006. However, enforcement action in the laying hen sector is not bringing about the required improvements regarding overstocking of cages and enforcement of non-compliances in the pig sector is not consistent."
Other FVO checks include Italy, Switzerland, Argentina and China.
Related website:
• Food and Veterinary Office