France's annual livestock show SPACE celebrates 25th edition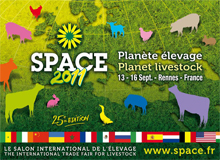 The 25th edition of the French agricultural trade show SPACE starts this Tuesday in Rennes' Parc-Expo. Over 100,000 visitors are expected to pay a visit to the annual show.
The event showcases the latest for the pig, poultry, cattle, sheep, goat and rabbit industries and animal feed companies, as well as animal health, equipment, breeding, AI and energy industries will be present at the show.
Apart from many French companies present, international representation will come from Germany, the Netherlands, Italy, Belgium, the UK, the USA, Spain and Denmark.
In addition to the exhibitors, the show is also the place for 40 high quality conferences, organised by a host of organisation, e.g. the French Pig Research Institute (IFIP) and the French National Institute for Agricultural Research (INRA) and a France-Russia Forum.
A Research and Development Platform will demonstrate new research – this year it focuses on 'Ecologically Intensive Agriculture' (EIA), also applicable for pig production. In addition, a new 'job dating service' as well as livestock competitions and presentations can be found at the fairgrounds.
The 2010 edition
Last year's edition attracted about 1,260 exhibitors, 358 of which were international, coming from 32 countries. Over 107,000 visitors came to Rennes for the show during the show days in 2010 – of which almost 11,000 were pig producers.
Over 9,000 foreign visitors came to Rennes from 107 different countries last year.
Farmers who are already integrating this new approach and advisers from the Chambers of Agriculture will be on hand to explain how farmers can adopt EIA for their arable and livestock enterprises.
The show will last until Friday, September 16.
In cooperation with our sister titles World Poultry and All About Feed, Pig Progress will send out a newsletter 'Live From SPACE', on Wednesday.
Related website:
• SPACE