Focus on boar taint: Part 3. Moving forward in pig production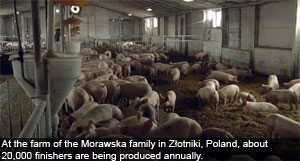 Pig producers in various countries all over the world see that the practice of castrating male piglets nowadays may have more disadvantages than gains. The search for more animal welfare friendly and economical solutions led Polish pig farmer Julita Morawska to try vaccination against boar taint.
By Jim Allison, Pfizer Animal Health
There is no doubt that adaptability and innovation in the farming industry have played a great role in the development of the sector in Europe. Farmers are often willing to question age-old practices when it can benefit quality, animal welfare and health. In today's tough economic conditions and with more demanding consumers, pig farmers are turning to innovative solutions to deliver cost savings and superior quality.
Julita Morawska breeds pigs on her family farm in the village of Złotniki in Poland. She has grown up with farming; her childhood was spent helping her family to run the family farm and now she supervises all aspects of pig and cattle production.
About 1,300 sows are kept in various buildings on the farm, producing approximately 20,000 porkers each year. When the pigs reach a weight of 110 kg they are sold on to the family's own meat processing plant in Grochowiska Ksieze, with any excess going on to other meat processing plants.
The Morawska family has witnessed a number of changes on the farm throughout the years.
One of the more fundamental has been a move away from the traditional practice of physical castration, to a trial of the new vaccine to reduce boar taint, Improvac, produced and marketed by Pfizer Animal Health.
Profitability
"One of my main priorities is to maintain the profitability of the units," Morawska says. "So I am very keen to try new practices that help to improve parameters such as feed conversion and ensure that they remain so."
Morawska is keen to seek new and more efficient ways to deal with age-old challenges – but it is always with a touch of caution. "I positively seek out and encourage the use of new practices on the farm and I am always very keen to see how new systems and products can help me to achieve a better output and lower costs. "But new methods have to be proven on-farm – I need to see tangible benefits, such as cost savings or some kind of return on investment and of course, higher profits from production. This is why I was very keen to trial the vaccine."
Radosław Czapla, a specialist in pig diseases, is employed by the Morawska family to take care of the day-to-day veterinary requirements of the pig production units. "Until we started trialling the vaccine we were physically castrating about 800 piglets a month," says Radoslaw. "This was generally carried out on the third or fourth day of life and was performed without anaesthetic or analgesics.
"This meant that we really needed to keep a close eye on the animals for the first week of life in order to reduce their stress and to try and maintain their wellbeing. Physical castration without anaesthetic breaks the rules of wellbeing and causes stress to animals."
Physical castration without anaesthetic is contrary to the principles of animal welfare and causes the animals a high degree of stress. "This inhibits growth and sometimes leads to complications. There have been cases of pigs with unusually positioned testicles."
Looking for solutions
The Morawska family first heard about the boar taint vaccine from a representative from the American animal health company, who told them about the advantages of the method. After a decade of proven experience in the Australian market, they were eager to see what benefits it could deliver to their farm. As soon Morawska heard the vaccine would be available in Poland she responded with interest and decided to trial it and see what it may be able to do in terms of feed conversion and carcass quality.
Before introducing the vaccine, Czapla received training and support. This included training on the use of the vaccine injectors, the optimum vaccination periods, and the compliance checks.
Czapla says: "Having learnt of the benefits to animal welfare, the elimination of health problems associated with castration and the increase in feed efficiency, we found it a very interesting new technology and now use it on all the boars."
Adopting new practices
Any new practice has to prove its worth on farm before being fully adopted and integrated. For Czapla and the Morawska family, this method was introduced immediately and comprehensively into the routine breeding programme on account of the credible research results. One of the most important production indicators is feed intake, which was very promising in the presented research.
"The profitability of our farm is mostly determined by how feed is utilised," Morawska says. "If feed utilisation is good, we find that weight is optimised, and animal health is also good.
"If we vaccinate around 10,000 boars per year, with their feed conversion much better than the one of the barrows, this will produce big cost savings for the farm and will greatly motivate the decision to continue.""We have changed procedures on the farm slightly in order to segregate the animals according to their sex. The first such segregation takes place on the day of separation of piglets from sows – that is when they are about 28 days old. The next one is when they are moved to the fattening sectors in order to make vaccination easier," adds Czapla. "In my opinion the vaccination will prove a better solution to the reduction of boar taint because it removes the stress in animals that physical castration can impose, and eliminates any negative effects that can arise after physical castration."
Reducing boar taint
On the Morawska farm the vaccine has replaced physical castration, the traditional way of reducing boar taint and Czapla recommends that other farmers may also try the new method. "With the improved wellbeing of the animal and the better feed conversion ratio I believe that the vaccine will be successfully introduced by many farmers and will replace existing methods of controlling taint. In my opinion this vaccine will improve pork production in Poland."
By adopting new practices and thereby driving farm performance, Morawska along with her vet Czapla are looking forward to ongoing success – which is one tradition they don't want to lose.