First Figap VIV America Latina held in Mexico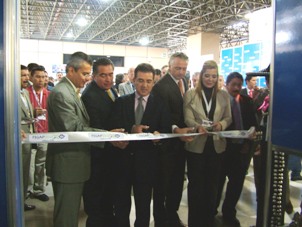 The first edition of Figap VIV America Latina opened its doors last Thursday in the Guadalajara Expo center in Mexico. Around 270 exhibitors in the field of feed and animal production were on display with their products and services. Concurrently a seminar programme was taking place.
The show was a joint effort of Figap in Mexico and VNU exhibitions, the Netherlands. For many years, Figap had already been organising a show in Guadalajara, focused on the Mexican market and strongly orientated towards feed ingredients and manufacturing. By teaming up with VNU, the show acquired an animal production side, making it a more comprehensive and international event.
At the opening ceremony, show director, Patrizia Jazo Altamirano said, that this cooperation resulted in a show with a truly international exposure, with exhibitors coming from 20 countries in the Americas, Europe and Asia.
Important player
Gerard Leeuwenburgh, VNU director International Exhibitions, shared that vision. He stated that Mexico is an important player in the animal husbandry industry at global level and the interest of exhibitors for Figap/ VIV America Latina reflected that position.
The show featured country pavilions of China, France, Holland and Spain, as well as US state participants from Illinois an Iowa. Leeuwenburgh said he was confident that the new international show for Latin America would play a significant role in the development of the animal production industry in the continent in general and Mexico and Central America in particular.
Figap/VIV America Latina was closed off Sunday, October 24.
Related websites:
• VIV
• Figap
• VNU Exhibitions