Feet First Seminar III – about foot lesions and reproduction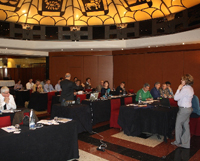 For the third time, feed additives company Zinpro organised seminars related to the topic 'Feet First' – this year focusing on optimising sow productivity.
Increasing the awareness around the how and why of healthy claws for feet, the company hopes to play its role in a longer lifetime for sows, as a fair number of premature culling is related to feet problems in sows. Yesterday's edition, held in Casteldefells, near Barcelona, Spain, was attended by approximately 50 representatives from the feed to food industry.
Reproduction

The key message of the event was presented by Zinpro's Dr Mark Wilson, reproductive physiologist, who zoomed in on the relationship between lameness and reproductive results. He said several researches have been indicating that lame sows do not reproduce as well. He indicated this e.g. by comparing numbers of piglets born alive and weaned; and their weight – another reason to keep feet health in good order.
His explanation was given in a slide explaining 'nutrient partioning' – once sows are being fed, the energy taken in will be used for several purposes in the following order:
Wilson said that once the 'immune activation' asks a lot from a sow's body, e.g. due to stress or inflammation at the feet – less energy is likely to end up at the 'reproduction' bit, which is only reached once the other conditions are fully supplied.
30 pigs/ sow/ year

An other interesting presentation was given by Spanish veterinarian Dr Lali Coma Feliu. She explained about the approach of her swine consulting and veterinary service company ('people need to be motivated – that's more important than anything else'). She went through a range of examples how to achieve 30 pigs weaned/ sow/ year.
An important take-home message from her to the audience was that monitoring and analysing is a first step. Observing with bare eyes may be a good start, but she said there are very many things going on in the pig houses that can easily be missed. In order to clarify her message she played a short film.
She also introduced the principle of cross-fostering to the audience – a practice that needs planning and a careful approach but is rewarding, she said.
Osteochondrosis

First speaker of the day was Dr Cathy S. Carlson, professor of pathology at the University of Minnesota, USA. She zoomed in on the occurrence of osteochondrosis in pigs – a disease which affects especially growing animals. In a technical presentation she presented the ailment's pathogenesis.
Key to her introduction was the notion that during a young pig's growth, its internal bone structure is naturally going through a phase of change. Where neonatals still have blood vessels in their bones, this is disappearing once the pigs (poultry, humans, dogs) reach an older age.
Necrotic blood vessels either are fully encapsulated by bone structure and in this case no harm is done. Once, however, these can not encapsulated, they may or may not cause bone fractures and clinical signs of lameness. The great majority of these subclinical lesions of osteochondrosis heal, if the joint can be protected from trauma during the time frame during which it is vulnerable – a take-home message for e.g. gilt transporters.
Timely message
The message at the Feet First seminars is timely as the year 2013 is approaching rapidly. In this year, all pig breeding facilities in European Union member states have to be converted to group housing systems. Since this means in practice that gestating sows will have the opportunity to stretch their legs more often, the chances of feet lesions incidences will grow as well, due to slippery floors, aggression, slatted floors etcetera.