Fancom participates in European BioBusiness Project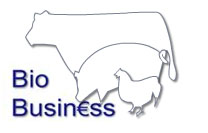 Seven European universities and research institutes and three industrial partners have joined forces to form the BioBusiness Project team. The BioBusiness Project is a European project allied to the Marie Curie Actions, an initiative that helps early stage researchers embark on improving their career. Fancom will be contributing to the research and Pig Progress editor, Vincent ter Beek, will be speaking at a Biobusiness workshop.
Predicting animal behaviour
The BioBusiness Project is researching the current problems related to animal welfare according to the Precision Livestock Farming principle. Precision Livestock Farming (PLF) uses sensors and information technology to monitor animal production, health and welfare real time. One of the things the PLF model concentrates on is predicting the expected animal behaviour. By continually comparing the predictions with the measurement any abnormal behaviour can be detected at an early stage. PLF plays a crucial role in the early detection of disease and objectively assesses animal welfare in modern livestock production.
Eleven selected PhD students are working in teams on three concurrent part projects:
•
Exploring improved conditions for incubating eggs
•
Automatic lameness detection in cows
•
Automatic monitoring of pig aggression
Aggressive behaviour in pigs
Fancom is contributing to the research into the automatic monitoring of aggressive behaviour in pigs. One of the researchers involved in the project is Maciej Oczak, who has a three-year contract at Fancom. He is part of the project team that is concentrating on developing visual and auditory techniques that continuously monitor and detect undesirable pig behaviour. The ultimate objective is to develop a system that manages behaviour using negative conditioning techniques so as to prevent unwanted aggressive behaviour.
6 September 2nd Biobusiness workshop in Brussels
The BioBusiness Project has a duration of 48 months. On the completion of the project in 2013, the participating parties will be organising a 3-day conference to present their research results and the skills they have acquired during the project. On September 6th 2011, BioBusiness is hosting their second workshop in Brussels. Students will present the progress of their training and research on the three projects.
***
NOTE:
Pig Progress editor, Vincent ter Beek,
will be a guest speaker on the 6th September in Brussels (
12:55 – 13:20
). Topic:
Media: Which story sells – Is PLF a scandal or blessing?