Experts forecast a new wave of African Swine Fever in Russia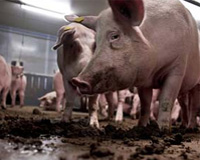 Outbreaks of African Swine Fever have already been registered in 20 regions of Russia. In some regions, including the Penza region, a special veterinary and sanitary treatment schedule has been introduced.
Meanwhile, experts say that the epizootic in the near future will only gain momentum. A new wave of African Swine Fever can overwhelm the entire European part of Russia, say specialists of
Rosselkhoznadzor
.
According to the service, the basis of such unfavourable prognosis is the fact that the monitoring process of pig farms, conditions of cargo transportation and other veterinary security terms have not improved at all. Rosselkhoznadzor also notes that the recent increase in outbreaks of African Swine Fever was registered in households belonging to the state agencies.

According to Rosselkhoznadzor in the middle of June, in areas where virus was found, there were about 162 thousand pigs affected, and since the beginning of the year it has already destroyed about 17 thousand heads, in other words, more than 10% of total livestock. Veterinarians estimate that total damage from the epizootic could reach amount of 8 billion rubles (US$ 284,8 mln).
"If we cannot stop the epizootic, billions of dollars in losses would be at stake," added representatives of the Russian government.