EUROTIER: Scanning finisher weight by hand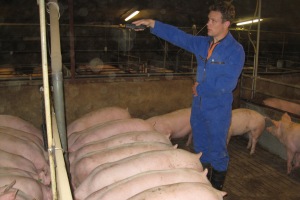 Manual scanning the weight of finishing pigs – that, in short is the key function of the new OptiScan, that is introduced at EuroTier by German pig equipment company Hölscher & Leuschner.
Using a 3D camera, producers can just measure the weight of a pig by just scanning it from above. The scanned data will be interpreted using algorithms to a body mass. Having acquired the information, a host of different actions can be performed, from changing the feed composition to picking those finishers that are ready for slaughter.
Flooring
Preparing for stricter slatted floor rules in the European Union next year, H&L also introduces ComfiFloor for finishers. Being slightly uneven in its structure, the floor will force manure and urin to flow swiftly through the slats. The percentage of slats is 5.5%, lower than in conventional slatted floors. Made from recyclable high quality plastic, this floor type is light-weight, easy to clean and a pleasant lying surface for pigs.
EuroTier will be held in Hanover, Germany, from 13 through 16 November, 2012. Hölscher & Leuschner can be found in Hall 12, F46.
Related website:
• Hölscher & Leuschner