EuroTier reports record number of visitors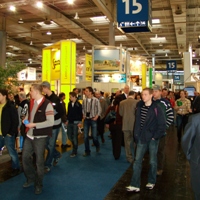 EuroTier has impressively demonstrated its strong pulling power for animal farmers and experts from all over the world, concluded organiser DLG at the close of the exhibition for animal husbandry and management.
Some 130,000 visitors came to the Exhibition Grounds in Hanover from 11 to 14 November 2008 to gather information about machinery and equipment, genetics, farm inputs and services for modern animal husbandry as well as potentials in the field of bioenergy and local energy supply. As a result DLG has recorded a record number of visitors – eleven percent up on the figure for the last exhibition.

Accordingly EuroTier has further consolidated its position as the world's leading exhibition for professional animal husbandry. BioEnergy Europe has become established as key exhibition for bioenergy and local energy supply.

The following individual conclusions can be drawn:
• The number of exhibitors has grown by 15 percent. 1,764 direct exhibitors and 44 additionally represented firms from 46 countries presented their programmes and innovations. The very high proportion of foreign exhibitors (42 percent) clearly proclaims the international status of EuroTier.
• With some 130,000 visitors, EuroTier 2008 was the information forum for forward-looking investors. This high level of interest reflects confidence in the medium and long-term potential of the branch. Discussions on the stands regarding the short-term outlook were coloured by the impacts of the general economic uncertainty.
• More than 22,000 visitors came from abroad – from over 80 countries. The largest contingents came from the Netherlands, Austria, Switzerland, Belgium and Denmark. Against the backdrop of the current financial crisis the investors from Central and Eastern Europe sought above all orientation to help them steer their farms and businesses in the short term. The high numbers of visitors from the Near, Middle and Far East is particularly encouraging.
• The pig sector is the mirror of the entrepreneurial and professional development of the branch. Pig production is becoming increasingly more global, and division of labour is rising. In this segment Germany with its strong position acts as a pacemaker in Europe.

The next EuroTier will be held in Hanover from 16 to 19 November 2010.