EUROTIER: DoubleFeed saves space for smaller swine farms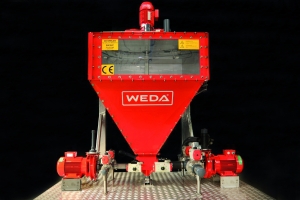 German feed systems manufacturer Weda launches a competitive feeding technology for small-scale farms with up to 200 sows, the Double Feed.
In this liquid feeding systems feed for sows, finishing animals and baby piglets can be provided with liquid feed from only one mixing container.
The core is the QXS container, from which two extraction systems with two different pipe diameters are operating. The 32-pipe feeds piglets, where the 50- and 63-line feeds sows and finishing pigs. Due to the QXS container and due to special valves which are attached directly at the container, there are no residual amounts or feed-mixing of piglet and sows' feed.
Report Generator
Weda announced another eight novelties, the most remarkable being the 'Report Generator'. With the aid of the computer, simple and fast reports can be created, tailored to the needs of the farm, and clearly laid out. These reports can automatically be posted as e-mails.
EuroTier will be held 13 through 16 November, 2012 in Hanover Germany. Weda can be found in Hall 12, B48.
Related website:
• Weda