Eurotier – Big Dutchman Innovation: Pig house control from a single source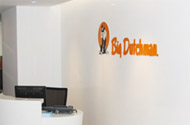 The confusing variety of different computer software for pig houses is a thing of the past: with BigFarmNet Big Dutchman launches a completely new technology in which all house applications and controllers are integrated in just one single software.
This concept allows the user to access all important functions easily and intuitively: be it feeding or climate, be it just one house or an entire farm complex – all controllers and computers are linked together and use the same software with the same user interface.
Saving time
The World Premiere of BigFarmNet will be at this year's EuroTier. BigFarmNet will save farm managers an incredible amount of time. "Whether it concerns user or master data, pig movements, temperature settings or feed curves: all data have to be entered only once. Also, it does not matter which computer the entries are made from, as all settings are taken over directly by all other computers in the network", describes BigFarmNet project manager Dr. Henning Müller one of the many advantages of the new technology.
This also offers a maximum operational reliability during everyday use. Each of the linked computers can also operate on its own. Should an interruption of the connection occur, the software re-distributes all data without loss. And: "Alarm messages from the production and climate areas are displayed together. In case of trouble, the farm manager is able to react very quickly because he has direct access to all controls", says Dr. Müller.
Entries can be made from one or several Windows-PCs, from the new Big Dutchman-717-Touchscreen-computer, or via mobile access from an iPhone or Blackberry. All changes, configurations and settings remain traceable. At the same time, user rights can be assigned variably based on the application or on the house.
The BigFarmNet operating concept is characterised by its simple menu structure, the concise design and the real-time visualisation. The clou is: all systems are shown as 3-D animations in exactly the same manner as they are installed on the farm. All systems can be manually accessed via these 3-D images.
BigFarmNet is a very communicative technology and supports the standardised ISOagriNET interface. This way data can be exchanged with other computers. The communication can, of course, also be carried out via other interfaces.