EuroTier 2010: German pork market – Part II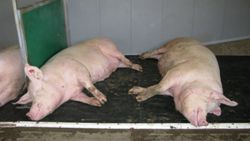 Part I of this warm-up for this year's edition of EuroTier devoted its attention to the domestic pig breeding situation in Germany. German-based author Norman Dunn spoke about 'a tailor-made situation for an increase in imported piglets'. But what does this mean for exports?
The motor for export success
With its pig breeders fighting for survival and a slowly expanding feeding sector, the real silver lining on the German situation shines out from the slaughter and processing branch. This has developed into a very high-capacity, as well as fairly low cost, motor powering a flourishing export trade.
Such a development is crucial in a country where pig meat self-sufficiency has soared from 80% in the 1980s to 110% this year and probably heading even higher. It's also badly needed because pig meat consumption on the domestic market has slumped from around 60 kg per capita 20 years ago to 53 kg.
Slaughterhouse throughput in Germany has increased from 48 million to 59 million in just five years. And there's still room for a 10 to 15% increase through 2011 and 2012, say the experts.
This is fighting talk from a country that has already positioned itself as number two pig meat exporter in the world after the USA. Germany shipped 2.15 m t abroad in 2009. That itself is a 5% increase on the year. The exports had five main destinations last year: Italy, the Netherlands and Poland (74% of exports go to EU countries) and then Russia and Hong Kong.
It looks like this all-important export market is going to have to be expanded even more because it is thought very likely that German slaughtered pig totals will hit the 60 million mark, maybe in 2011 but more likely the year after.
Over 2 million tonnes on the export table
Dr Dietmar Weiß from AMI speaks of having to boost exports still further to maybe around 2.35 m t in 2011. But there's going to be a lot of in-fighting amongst the world marketing leaders. After all, other major pig meat export countries, including the USA and Brazil, are expecting to increase production too.
And just how stable is the market anyway? This year Russia and China (through Hong Kong) snapped-up one third of German pig meat exports January to June. But the Russian market, fighting to protect its own producers, is not something to bank-on every year. It could hang an embargo on German imports at any time and leave the republic's pig sector struggling for alternative markets. This is why experts are already cautioning that Germany's pig meat customer network must be spread more thinly over the globe.
An area where German pig producers are obviously open-minded covers breeding because there are a huge variety of genes in the production mix. First of all, 20% of the national herd is reported as either purebred German Landrace or Large White, or own crossings. After that, every important international breeding company is represented with the Danish Danbred (DanZucht) ahead at the moment, supplying 12% of all sows. Topigs, market leader in the Netherlands, ties with PIC for next place, each with 10% of the national herd, closely followed by Germany's own breeding organisation BHZP (8%). Notable among the remaining suppliers are German Hybrid (SZV), Hülsenberger, Hypor and JSR.
EuroTier: the rubber revolution?
And finally, with EuroTier in mind it might be interesting to consider what may be among the biggest attractions offered by those companies fortunate enough to be exhibiting in the pig equipment halls this November. Without a doubt, computer control of every aspect will get the most attention – especially now that Isobus has established near-perfect synergy systems among the different manufacturers. Up there among the high-interest hits will, of course, be ventilation improvements, exhaust air cleaning systems and let's not forget biogas production as highly attractive sustainable diversification – at least with the 20-odd years of guaranteed energy prices offered in Germany!
But there's another revolution that came sneaking in through the cattle lines last EuroTier. This features rubberised matting in lying areas, see the picture on the left, provided by the scientist developing the concept: Dr Stephanie Knoop, Boxberg Centre, Baden-Württemberg Pig Breeding Institute. The concept has proved a winner for dairy cattle with huge savings in reduced feet and leg problems.
The pig equipment sector has, as usual, caught-on fast. There are a number of companies exhibiting the soft floor approach for not just dry sows but also growers. Only last year a trial at the Baden-Württemberg Boxberg Pig Breeding Institute showed that rubber matting on sow service centre flooring reduced hoof and leg injuries by over 30%.
Rubber flooring hasn't won an innovation medal. But it's a safe bet that the concept will win a lot of friends for the first time this year in Hanover.