EuroTier 2010: German pork market – Part I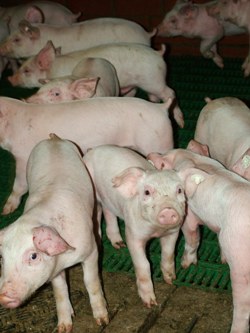 As the world's pig equipment manufacturers set-up their stands for the Germany's EuroTier exhibition in Hanover this November, they must be thanking their lucky stars for such an attractive market. For the German sector, easily the largest in Europe with 59 million pigs slaughtered this year (a plus of 5% on 2009), is also one of the most dynamic which means high capital investment is on the cards for new buildings and the latest in climate, feeding and monitoring equipment.
Just consider these figures: the average size of feeding enterprise in Germany increased by over 7% between 2008 and 2009, and 40% of units now have 1000 feeding places or more. In eastern Germany, where there's a lot more room for expansion, this figure is over 80%.
More expansion is expected. But it's definitely a case of "proceed with caution". For feeders are already being warned that only the most efficient will survive the coming years of pressurised producer prices and probably above-average feed costs. Even now, the message is: "If you cannot produce slaughter pigs for total costs of well under €1.40/kg slaughterweight, then forget any plans of expansion.
As this €1.40 may well work out to be the average producer price for the whole of 2010 one can appreciate that there's not an awful lot of breathing space left this year and next.
10 million weaners imported
At the same time weaners imported by German feeders will level at 10 million this year with around 3 million from the Netherlands and 7 million from Denmark. In fact, including around a million finished pigs imported for slaughter, every sixth pig ending up on the cutting line in Germany is now one that's been imported.
But there's expansion in the German piglet production sector too – as far as unit sizes are concerned anyway. Average herd size is now 110 breeding sows compared with just 75 sows five years ago. Again, this is only half the story because most expansion is taking place where herds have already reached 200 sows and more. In fact advised start-up herd size, at least in the northwest and east of the country, is now a minimum 400 sows.
As the smaller herds sell-off sow numbers have dipped from 2.4 million in 2005 to an estimated 2.26 million at the moment. The number of farms involved has dropped 30% in the same time to around 20,000, according to Agrarmarkt Informations-Gesellschaft (AMI) estimates. Just ten years ago there were 47,000 sow herds in the country!
AMI expects this diminishing trend to continue.
Germany's disappearing weaner producers
Another reason for the continuing disappearance of smaller weaner production units in Germany involves management and housing changes pencilled-in for 2013 under the new EU animal welfare directive. These include mandatory group housing for gestating sows and changes to space per pig, slat sizes and trough space. With just 25 months to go before the EU deadline for such significant changes, many pig production units haven't even got down to planning: a ominous omen that these new rulings will lead to a much bigger bleeding of smaller producers from the sector than so far imagined.
A second hurdle is the difficulty of expansion, even if the capital is available. Especially in the main pig production area of northwest Germany, regulations demanding extra field area where pig numbers are increased have led to such a demand for land that it's almost unavailable at the moment – and certainly unaffordable. This is one reason why there's no accelerated move to create the ostensibly much more efficient self-contained farrow to slaughter systems applied in most other western European countries. Planning permission is becoming increasingly difficult to obtain. Adding a feeding unit to a breeding enterprise might offer production efficiencies – but in Germany it also doubles the red tape, and expense, of getting started.
So we have a situation in Germany tailor-made for an increase in imported piglets. Helping are reasonable prices such as the present ones for Danish weaners at 28 kg liveweight and delivered in batches of 100. These are expected to be below €40 per pig by the time EuroTier opens its doors this November.
But that still means the overall average for this year is around €45. If supply from Germany's two neighbours remains at about the same in 2011 the price is expected to remain stable, although it's reckoned that the beginning of next year will probably see cheaper imported piglets for the first month or so.
Later this week, the second part of this weblog will be published, focusing on export opportunities.