Environmental labelling of pork is a complex matter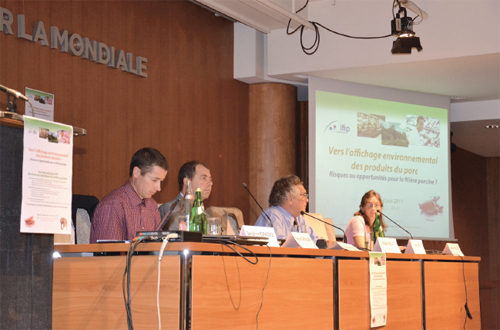 The French pig research institute IFIP organised an interesting meeting in mid June in Paris on environmentally responsible pig products. A first step of this complex issue is a national labelling experience that started on a voluntary basis on 1 July. On this date 262 companies confirmed their participation, three of them being involved in production of fine foods.
Pig production represents an emission of 2.7 kg of CO2/kg live pig and raw materials account for 89% of the animal feed carbon assessment. Transport of animals to the slaughterhouse represents from 1-3.3 kg equivalent CO2 per slaughtered pig depending on the distance between the farm and the slaughterhouse.
These are some of the concrete conclusions of the conference organised by The French Institut de Porc – IFIP on the topic: Environmental labelling of pig products: risks or opportunities for the pig chain?
Numerous speakers discussed this complex, new and actual issue from complementary angles. A national experiment with environmental labelling of consumer goods was started on 1 July 2011, as Christine Cros mentioned in her opening speech. She is head of eco-conception and sustainable consumption at Ademe (Agency for Environment and Energy Management www.ademe.fr). "Environmental labelling has numerous goals," said Cros, mentioning the following:
• to inform the consumer on the environmental impacts of a product during the purchase act;
• to ensure the comparability of the information (similar method);
• to provide reference information to the producers, and
• to encourage the supply chain to improve itself.The national experiment is the result of two years of intensive work done by Ademe and Afnor (Organisation for environmental labelling of consumer products) to settle sector references. Twelve sector working groups have worked on rules by product categories (one for food and animal products), in particular to define an indicator of biodiversity and water consumption. Regarding the working group on food, several rules are under discussion, one of which is the definition of a functional unit (100g, 100 ml or a portion) and impact indicators: climate changes (greenhouse gas emissions), water consumption, water quality (sea eutrophisation and aquatic eco-toxicity), and biodiversity (under definition).
Fewer releases
Yvon Salaün of IFIP in his presentation supplied concrete information on ways to control environmental impacts in pig production. "Farms with good technical efficiency have fewer releases," said Salaün who reminded the audience that pig nitrogen excretion has dropped by 40% to 45% in 25 years. This drop in excretion also concerns phosphorus (-60% to -70% in 25 years, can we go any further?) and minerals (zinc went from 250 to 150 ppm and copper from 100 to 25 ppm).
Salaün also gave some information about gas emission in pig production, in particular ammonia (of which 55% comes from housing, 10% from manure storage and 35% from their spreading), and greenhouse gases. Some 70% of greenhouse gases are composed of NH4 (methane) and 30% of N2O (nitrogen oxyde).
According to IFIP, ammonia emissions are 17% higher in the case of animals raised on litter compared to animals raised on concrete slats. It is the same for greenhouse gases which are much higher in the litter model than for the concrete slat one, with mainly N2O emissions. Different options are available to cut these emissions: air washers (40% to 90% less ammonia, +3% to +5% cost increase per pig place); faeces/urine separation at the source (40% to 60% less ammonia, 50% less odour), or slurry pit covering.Energy consumption was another issue mentioned by Salaün. Main energy consumers in pig production are heating (46%) and ventilation (39%); feed accounts only for 4% of the total. "For each technical parameter, a great variability exists from one farm to the other and for that reason you cannot limit the environmental labelling to general data," said Salaün. "If a common method is a necessary first step, you also need good quality data to feed it," he said.
Life cycle analysis
Hayo van der Werf, INRA researcher, focused on life cycle analysis (LCA) to evaluate environmental impacts of products. "LCA is a transparent standardised international method for all sectors of the economy," Van der Werf said, who presented calculations in milk and poultry production. The figures are sometimes surprising as they depend on the used functional unit. For example, if you take one kg of live broiler from the farm as a functional unit, the quality chicken red label (Label Rouge) is less favourable to climate change than the standard broiler. On the other hand, red label quality chicken is more climate friendly if you take 1 euro live broiler from the farm as a functional unit.
Van der Werf also presented Agri-Balyse, a programme run by numerous institutes (Ademe, Inra, Swiss research organization ART, Cirad, Acta) for a two-year period (2010-2012), which acts as a public database of life cycle analyses for agricultural products from the farm.
Studied products are vegetable products (30 to 40 products), animal products (30 to 40 products) and tropical products (5 to 6 products). "To keep our quality of life, we need to move to production systems using fewer resources and producing fewer pollutants," resumed Van der Werf. An international conference on life cycle analysis for food products will take place in Saint-Malo (France) from 2 – 4 October 2012 (Contact: lcafood2012@rennes.inra.fr)
10% to 20% differences among farms
In their presentation on greenhouse gases of pig products, Patrick Chevillon and Sandrine Espagnol from IFIP presented examples of the evolution of the carbon footprint per kg dry product (from dry sausage to dry ham). The results showed that the carbon footprint is highly correlated to the rate of processing. The production of equivalent CO2/kg of product jumps indeed from 2.7 kg/live weight for a breeding pig to 8.8 kg CO2/kg for dry sliced ham in a supermarket self-service. "Regarding CO2 production/kg pig, differences from 10% to 20% exist from one farm to another depending on its feed conversion," argued the speakers who invited the delegates to have a 'multi-criteria approach and a thoughtful and transparent method.'
The conclusions of Valérie Bris from Coop de France Nutrition Animale were similar and realistic. "Environmental evaluation of animal feed requires a multi-criteria approach and a none allocation method is really adapted to the animal feed sector," she said. In fact, an assessment based only on the greenhouse gases criteria is not recommended as it would stop the use of by-products which would have no other outlets than destruction. How to continue works on greenhouse gas emissions? "If upstream work is necessary to get missing data, the huge variability of raw materials and additives used in the feed industry is a major concern," concluded Valérie Bris. "We should establish a dialogue among the European feed producers, particularly with the Dutch ones, around our respective results, in order to aim for a coherence and to achieve a European recognition of the retained values."
No doubt that the experiment which started in July will be followed by adaptations and evolutions.