Emergency upgrade for pork quality programme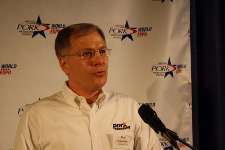 The National Pork Board (NPB) announced at the World Pork Expo, in Des Moines, Iowa, that as from now an emergency action plan tool can be found at its website, to better deal with the challenges of unexpected situations.
The package forms part of the board's Pork Quality Assurance Plus (PQA Plus) programme, which was devised ten years ago to help producers achieve higher food safety and animal welfare standards during pork production – and already 30,000 producers have complied with PQA Plus.
The emergency programme will prepare pork producers to have a plan to ensure that important decisions are not overlooked and that all resources are mobilised in case of a flooding, fire or disease outbreak.
Trust
Steve Weaver, NPB president, revealed in Des Moines that the NPB has adopted a resolution urging all US pork producers to become certified in the PQA Plus programme, by December 31, 2010. This would only support the 'We Care' initiative, to earn the trust of the customers, he said.
Confidence and protection
The possibility of a potential virulent variety of H1N1 illustrates the need of an action plan tool like this, NPB officials explained.
Chris Novak, CEO, NPB, said at the World Pork Expo that his organisation has had two goals over the last couple of months, after the influenza A (H1N1) outbreak: "First we would like to restore confidence with consumers – and we launched an advertising campaign to tell 'pork is safe'. Second – we need to protect the US swine herd."
Seriousness
Building on this example, Dr Liz Wagstrom, assistant vice president of science and technology for the Pork Checkoff, explained why the novel H1N1 should be taken seriously.
"First of all, the novel disease is different to ordinary influenza in humans, as there have been ongoing cases in summer in the northern hemisphere, which is very unusual. Today, there are over 15,000 known cases in 53 countries – and 100 deaths. In addition, it seem to be younger people from ten upwards and in their prime time who are the victims."
She continued to say, "The new virus is also different to usual swine influenza – as the usual swine influenza goes from swine to swine, and can occasionally jump to humans."
"Apart from one case in Canada, H1N1 has not been found in pigs. We need to keep it out of the pigs to make they don't become a reservoir."
Programme
As a good example of how to deal with H1N1, three major guidelines in case of the outbreak of a more virulent strain were introduced by Paul Sundberg (photo), NPB vice president of science and technology:
•©Apply a strict biosecurity
•©Keep ill people away from the pigs
•©In case of suspicion – consult a vet
Related website:
• National Pork Board (NPB)