Economists expect US swine industry to shrink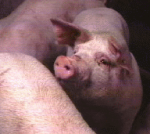 Agricultural economists are concerned that the pork sector will get smaller as prices rise in the wake of more ethanol demand. Pork producers may suffer the most as the shift from food and feed supplier to energy provider continues.
Iowa State University livestock economist,
John Lawrence
, believes that if corn prices continue to rise to US$4 a bushel, the pork industry will lose 10 – 15% of its animals nationwide.

Some economists expect farmers who are corn producers, but who also raise hogs, to be some of the first to exit the swine industry.

Glenn Grimes, University of Missouri economist says, "Right now, farmers are feeding hogs to make extra money and have a source of fertiliser for their farm. Once they begin to lose money on those hogs, their interest in raising them dissipates."
Related articles: