Easier mobile access to pig feeding adjustments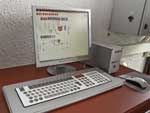 Now, Weda Dammann & Westerkamp GmbH from Lutten makes your mobile access to pig production even easier. By means of their mobile phones or tablet computers pig producers worldwide are now able to log into their Weda control systems.
It is now possible to access Weda's "Excellent 4PX" computer worldwide via smartphones like iPhone or via tablet computer like iPAD. This way, pig producers can – independent of location – carry out adjustments and changes in their feeding program with just a few touches via touch sensitive screen. Beside the internet capable device a stable radio reception is prerequisite.
©
Whether the farmer is in the fields at that time, or visiting an exhibition or whether he is on holiday: he can make sure at any time that his feeding processes run free from disturbance. Having received the information that a silo is getting empty or that a changeover to a replacement silo is to take place the unit manager is able to react immediately by means of the Weda system.
©
During handling, the farmer will be shown the functions and settings of the "Excellent 4PX" computer and will get them explained. In this case he can then by easy menu navigation at the touch screen immediately change individual parameters or optimize his feeding. Access to the computer by mobile device is technically problem-free and easy to learn.
©
The operation is based upon iPhone and the intuitive menu navigations of other producers. The high resolution displays make the simplified images of the familiar menus easily recognizable (see pictures).
©
The application is internationally available. Additional expenses only occur by webspace costs, depending on the mobile telecommunications tariff of the user.
©
©