Earthquake surviving pig inspires Chinese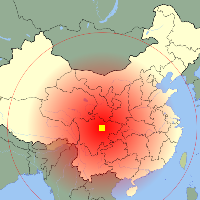 A pig that became trapped and rescued after 36 days following the 7.9-magnitude quake that struck Sichuan Province has been voted China's most inspirational animal for 2008, state media is reporting.
The quake on May 12 caused collapsed schools, bridges, dams, houses – and a farm shed that trapped the pig. The pig was forced to survive on charcoal and rainwater for 36 days while trapped under earthquake debris. When it was finally rescued June 17, the animal was a mere slip of a thing at 50 kilograms, or 110 pounds, down from its pre-quake weight of 150 kilograms.
The farmers who owned the pig sold him for $430 to Fan Jianchuan, the owner of a private museum in the ancient town of Anren, near the city of Chengdu. Fan put the plucky survivor into a livestock exhibit at the museum and gave him a new name – Zhu Jianqiang, meaning Strong-Willed Pig. Fan also took out a 10-year life insurance policy on the pig, who became a nationwide media sensation.
The pig was voted China's most inspirational animal in a poll on the online forum Red Net. The other spots in the top 10 went to six dogs, a bird, a turtle and a cat. This was the second straight victory for a pig: Last year's winner was a sow that fought off a butcher trying to slaughter its "husband."
©