Dutch retailer moves to selling pig friendly pork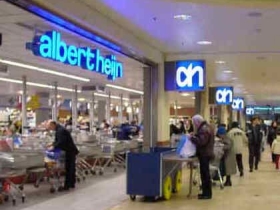 Albert Heijn, the Netherlands' major retailer, has announced to quit in 2011 selling conventional pork – and only to sell pork which is produced in accordance with animal welfare guidelines.
This pork will be marketed and distributed using the 'Better Life' brand, which is set up according to requirements of the Dutch animal welfare organisation 'Dierenbescherming'. This agreement was made between the retailer and Vion, the Netherlands' major meat processor.
Apart from allowing the pigs more space to move around (a minimum of 1 m2 per pig), the new standard also implies that male pigs will not be castrated and that maximum transport times will be introduced.
Better pig lives
"This implies that over 1 million pigs per year will get a better life," said Sander van der Laan, general manager," Albert Heijn. Higher prices for consumers will be the end result.
"A great step in the right direction," said Annechien ten Have, chairperson of the section pig production of the Dutch Agri- & Horticultural Organisation (LTO), on behalf of the producers. "This way we are not only working on sustainability and a better animal welfare, but the necessary link is made from the producers to the market," Ten Have emphasised.
Respect
Dutch agricultural minister Gerda Verburg greatly respected the retailer's decision. Last year, the minister launched an initiative to present a larger supply more sustainably produced meat on the Dutch market. In May last year, a convenant was agreed on in the market to move further towards that goal.
Wyno Zwanenburg, chairman of the Dutch Pig Producers (NVV) expressed to be happy about the result. "We have always said that the market should demand the production of an intermediate segment of pork. With a good extra price, Vion now has to seduce pork producers to step into this segment."
Related websites:
• Albert Heijn
• Dutch Pig Producers (NVV)
• Dutch Agri- & Horticultural Organisation (LTO)
• Vion