DuPont seminar: Where pig nutrition meets pig health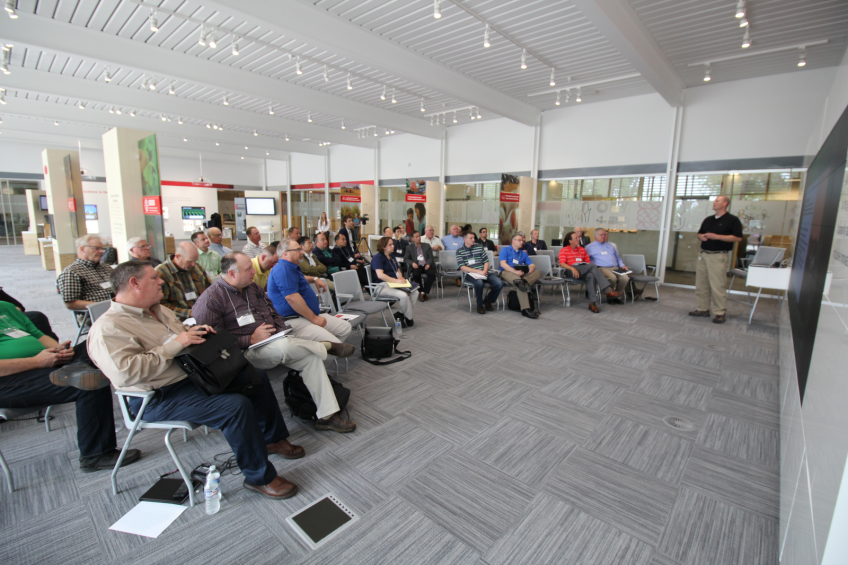 The question how pig health and pig nutrition can interact – was key at the 'Maximizing Efficiency in Swine Production', an event organised by Danisco Animal Nutrition, a division of DuPont.
The event, featuring three speakers from different disciplines from the pig industry, was held on the eve of World Pork Expo, in Des Moines, IA, United States, and attracted around 50 attendants from the US, Canada and China. Moderation was in the hands of Pig Progress.
Dr Marcus Kehrli
Exactly however inextricably joined the two disciplines are could be seen in the presentation of Dr Marcus E. Kehrli, director of the National Animal Disease Center – USDA-ARS. He spoke about the diseases which his institute at Ames, IA is researching and pointed to the in-feed antimicrobials which are heavily debated in the US at the moment. The search to alternatives has been started, and however much nutritional solutions or biosecurity might offer partial relief, he said that a 'silver bullet' hasn't been found yet.
[([002_rb-image-1771248.jpeg]:inzetgroot)]
He also added that a compromised immune system also has an impact on the way an animal deals with its feed. Should the immune system need to fight a virus or a bacteria, much of an animal's energy supply will go to the maintenance of that immune system, instead of to growth. This way he showed the direct relationship between nutrition and health.
Dr Chris Iiams
Knowing what is inside the feed is therefore becoming even more important – and knowing that exactly was the topic of the presentation of Dr Chris Iiams, one other speaker at the event. As senior research scientist at DuPont Pioneer, he spoke on fast and reliable prediction of corn energy value for swine diets.
[([003_rb-image-1771244.jpeg]:inzetgroot)]
Dr Iiams explained the extra benefits NIR calibration/technology can offer to swine nutritionists already using published information on corn digestible energy (DE) from various sources or for producers using models other than DE.
He also showed a grain analyser to illustrate the working – it is considered a quick and affordable methodology to find out the digestible energy available in feed samples.
Dr Dean Boyd
How exactly nutrition could fill up part of the gap left open by the reduction of antimicrobials usage was demonstrated by Dr Dean Boyd, technical director and nutritionist at the Hanor Company, an integrated US pork production and food processing firm. He shared some very recent findings related to improved liveability with xylanase inclusion in pig diets. He demonstrated that the enzyme can not only be used to counter variability and improve carcass uniformity but in a prebiotic context to support gut health.
[([004_rb-image-1771246.jpeg]:inzetgroot)]
He said that the enzyme xylanase has been found to lead to improved feed conversion rates with pigs on one hand, and on lower mortality rates when fed to grow/finish pigs. How the results can be explained is something that is yet to be revealed, but the results offer more than enough reason to further investigate this.
In the weeks to come, Pig Progress will present interviews with either of the speakers, offering more insight into the messages of all speakers.
The presentations will also be available for download on animalnutrition.dupont.com.