Dr Howard Hill (NPPC) receives 2011 science with practice award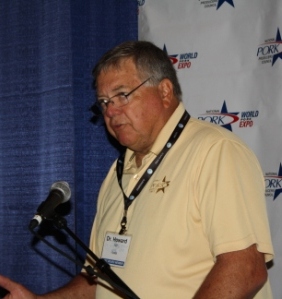 Dr Howard T. Hill, DVM, received the Science with Practice Award from Iowa State University's College of Veterinary Medicine. Hill is currently active on the board of the US national Pork Producers Council (NPPC).
The award, presented at the 19th Annual Swine Diseases Conference in Ames, Iowa, earlier this month, recognises exemplary integration of science and the art of veterinary practice to benefit swine productivity and welfare.
In presenting the award to Dr Hill (pictured left at the last edition of the World Pork Expo), Dr Jim McKean, conference chair and ISU extension veterinarian said: Dr Hill has worked for his entire career to put swine practice and pork producers in the forefront of science and its practical application. He represents the practical demonstration of what this award recognises. He has been pivotal in Iowa and national disease control and eradication efforts in both the production and programme development arenas.
Iowa Select Farms
Hill is the director of external affairs for Iowa Select Farms, an Iowa-based pork production company. He has been with Iowa Select since 2000, when he joined the company as director of production. In 2001, he was promoted to chief operating officer, continuing in that role until 2009.
He came to Iowa State University in 1970, when he received a National Institutes of Health fellowship offered by Iowa State University. After earning his master's and PhD degrees in veterinary microbiology at ISU, he accepted the position as head of the microbiology section of Iowa State's Veterinary Diagnostic Laboratory. During his 20-year tenure at Iowa State, he served as an industry leader in the eradication of pseudorabies.
Throughout his career Hill has been actively involved in the American Association of Swine Veterinarians. Earlier this year he was one of nine veterinarians appointed to serve on the US Department of Agriculture's Advisory Committee on Animal Health.
Related websites:
• Iowa Select Farms
• National Pork Producers Council (NPPC)
• Iowa State University